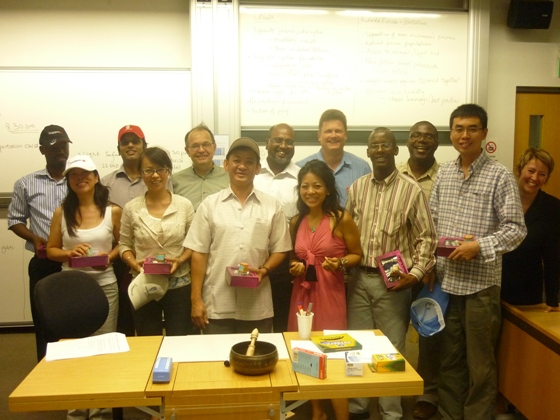 From August 8th to August 17th, IBJ held the Country and JusticeMakers Fellows Summit and second annual fundraising gala in Singapore, in celebration of the opening of its Singapore-based Justice Training Center.
Country Fellows Summit
The 2010 Country Fellows Summit was held on Sunday, August 8th through Saturday, August 14th. Eight Fellows from all six different country programs (Cambodia, China, India, Burundi, Rwanda and Zimbabwe) gathered for a week of training, team-building exercises, strategic planning, and fellowship.
Fellows carry much responsibility, as they manage the country programs, are the face of IBJ in their various countries, liaise between IBJ and local partners, and, in most countries, serve as counsel in the criminal cases taken by IBJ. The Summit aimed to: i) strengthen Fellows' organizational and programmatic capacity to lead and sustain their respective country program; ii) reinforce their legal defense, advocacy and teaching skills; iii) create a supportive network of global defenders with the Singapore legal community and iv) increase the feeling of belonging to the IBJ community and motivation to build the legal rights movement in their respective countries.
With the support of eminent members of the Singapore legal community, external experts and IBJ management, the  Fellows were walked through IBJ's complete training methodology. Fellows learned how to organize the content for an effective presentation and how to deliver it, using persuasive gesture and other attributes, whether in a courtroom, meeting or speech setting. They also developed critical negotiation skills through case scenarios involving uncooperative justice officials. More significantly, Fellows gained crucial trial advocacy skills which will help them become  more effective and efficient advocates for defendants' rights. The trainings were interactive such that every single Fellow had a chance to put the skills to immediate use, and conducted, primarily, by public speaking expert, Constance Bernstein, and knowledgeable legal trainer and IBJ Training Director, Kellie Krake.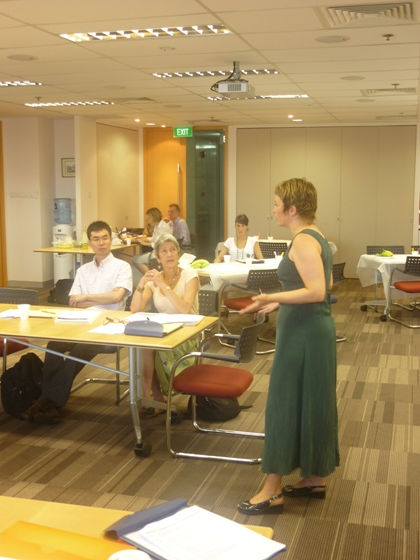 Above: Kellie Krake, IBJ Training Director, teaching the theory of the case to Country Fellows. (Photo by Liam Hanlon)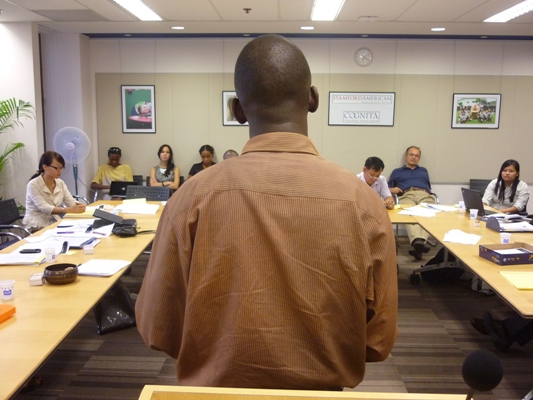 Above: Burundi Fellow Astère Muyango trying his hand at the opening statement (Photo by Liam Hanlon)
It is important that the skills acquired by Fellows during the training are sustainable, translatable, and are eventually passed on to local lawyers, so that defenders capacity can be strengthened. Trainers gave Fellows the tools they need to communicate those same lessons to their peers. The Fellows were thus taught how to teach advocacy skills, mentor their peers and had interactive sessions in which they taught and gave constructive criticism to mock "students".
Above: Cambodia Fellow Ouk Vandeth presents the closing argument of his case (Photo by Liam Hanlon)
To foster team-building, Fellows were invited – through a unique conversational process called "Justice Café Discussions" (inspired from the World Café Methodology) – to explore their personal stories, their fundamental motivations for pursuing a legal career and the  areas of improvement of their programs. They were requested to form models of what their legal system could become within the next twenty years if given adequate resources. Universally, each Country Fellow aspired to have a strong justice system that upheld due process rights for indigent accused persons. Successes and challenges in each country, however, varied.  In Burundi, where no pro bono culture was established, the seeds of interest in pro bono work have been planted and are beginning to sprout. On the other hand, the Cambodia program is beginning to focus on sustainability in response to its challenge of transferring power to the people.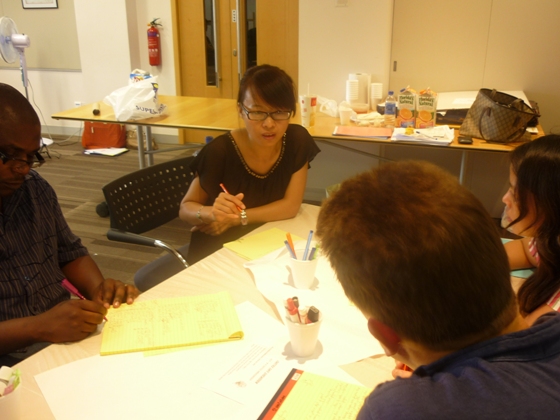 Above: First Justice Café Discussion on the Fellows' aspirations for their justice system (Photo by Liam Hanlon)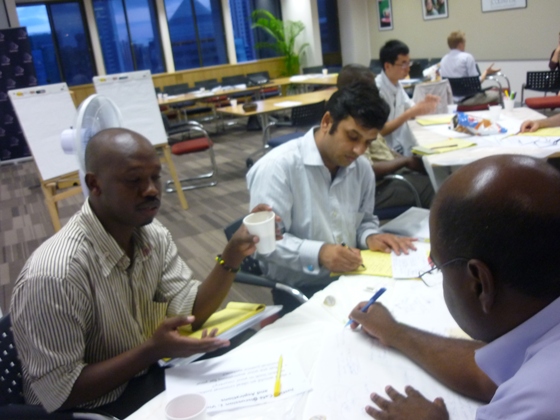 Above: Justice Café Discussion on areas of improvement of country programs (Photo by Liam Hanlon)
The Summit in Singapore also had a number of fellowship opportunities. The focus of the fellowship was to build a community amongst the fellows, and between fellows and those legal actors in the Singapore area that have an interest in the work of IBJ. One such event was a dinner at the home of Subhas Anandan, a renown Singaporean criminal defense attorney and founder and first President of the Association of Criminal Lawyers of Singapore. Here, Fellows were able to discuss cultural differences and nuances in, as well as the importance of, access to counsel and pro bono criminal counsel. Additionally, at a networking event hosted by the American law firm Latham and Watkins's Singapore office, fellows, IBJ staff members, and criminal and corporate lawyers were able to come together.  This was a valuable event, as private sector practitioners were able to hear, first-hand, about the work that IBJ does, and were introduced to both Country Fellows and JusticeMaker Fellows.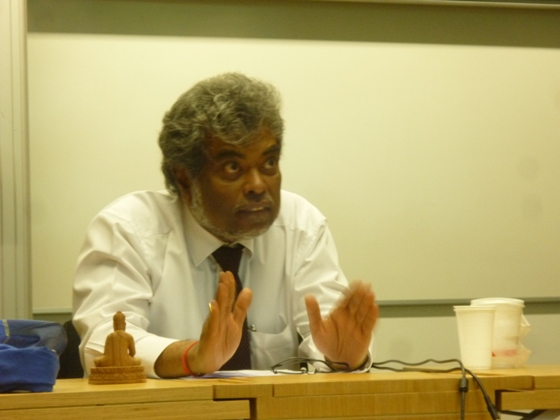 Above: Criminal Defense Lawyer Subhas Anandan sharing his poignant story with the Country Fellows (Photo by Liam Hanlon)
JusticeMakers Fellows Summit
The 2010 JusticeMakers Competition focused on Asia, and the eight winners of the competition were flown to Singapore to participate in the Summit and attend the gala. During August 11 through August 17, 2010, the JusticeMakers gathered for a Summit during which they were introduced and welcomed formally to IBJ, presented their projects, participated in discussion groups and team-building exercises, and attended lectures and training sessions.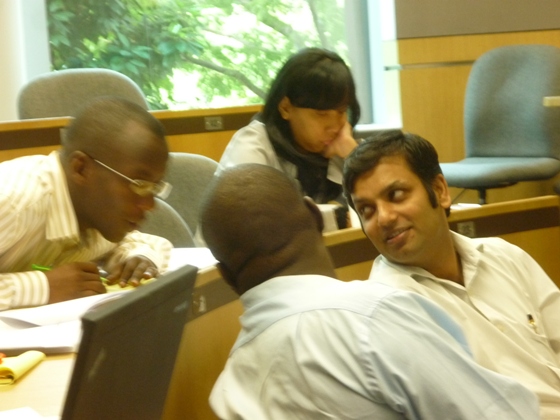 Above: Burundi Fellow, India Fellow and Zimbabwe Fellow sharing a moment of complicity (Photo by Liam Hanlon)
A particularly interesting session in the JusticeMakers Summit was the revelation of current trends in the justice systems in various countries. JusticeMakers, during a confidential session, were able to speak candidly about the realities and challenges of the criminal justice system in their countries. The first-hand knowledge gained during this session is invaluable to the work of IBJ, particularly in their interest to extend programming efforts into other countries.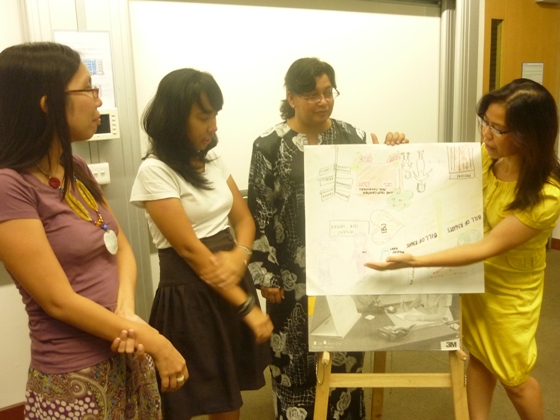 Above: JusticeMakers Fellows from the Philippines, Indonesia, Malaysia and Vietnam sharing their vision of a fair and efficient justice system (Photo by Liam Hanlon)
Above: Pakistan JusticeMaker presenting his vision of a fair justice system in Pakistan (Photo by Liam Hanlon)
Led by Country Fellows, the JusticeMakers were able to participant in discussion sessions and present their individual projects to IBJ staff, Country Fellows and other JusticeMaker Fellows. Both the discussion groups and presentations allowed them to express the frustrations of their work, and, more importantly, their method of change to correct the shortcomings of the justice system in their country. More importantly, these sessions created a sense of community amongst the attendees.
Similar to Country Fellows, JusticeMaker Fellows attended training sessions, during which they were taught skills critical to their work as criminal justice advocates, including standards for defense practice and trial skills, basic negotiation skills and leadership and fostering motivation. The training sessions were taught by motivational speakers, IBJ staff members, and Singaporean lawyers and experts.
Finally, JusticeMaker Fellows, in addition to Country Fellows, were given the opportunity to meet and hear lectures from prominent lawyers and advocates from the area. One particularly moving lecture was entitled Projecting Lawyers When At Risk and was given by Persida Acosta, a chief public attorney in the Philippines. She spoke about the dangers lawyers face and how to overcome the psychological pressures of these dangers and remain safe, using her own riveting story as an example.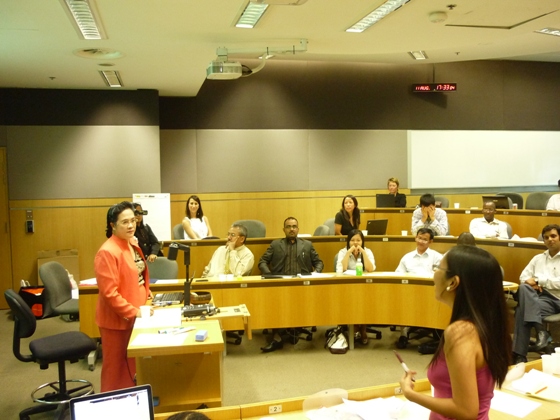 Above: PAO Persida advising Fellows on possible mechanisms of self-security (Photo by Liam Hanlon)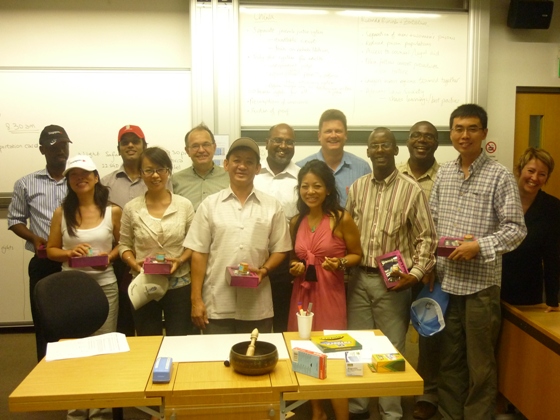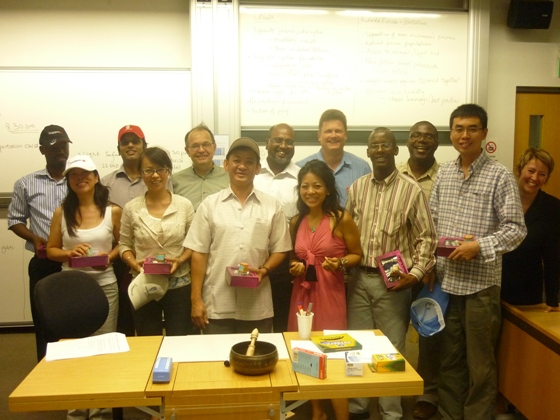 Above: IBJ Country Fellows and Geneva management team at the close of the Country Fellows Summit (Photo by Liam Hanlon)