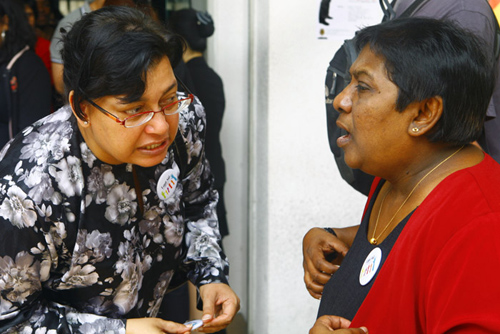 November 25, Kuala Lumpur, Malaysia —
On November 25, I sat down with Stephanie Bastian, the Executive Director of the Kuala Lumpur Legal Aid Center, to discuss how a criminal justice system, in which 80% of criminal defendants go unrepresented, handles child offenders.  She echoed fundamental concerns similarly plaguing other agencies involved in children's issues: an insufficient number of staff (in this case volunteer lawyers) and specialized training focused on children's issues.
However, Ms. Bastian, accompanied by two of the most active volunteer lawyers taking on pro-bono cases in Kuala Lumpur, is hopeful about the direction juvenile justice is heading, especially when looking at 2010 JusticeMakers Fellow Dato' Yasmeen Shariff's proposal to introduce alternatives to detention for children charged with minor offenses. This program, she contends, encapsulates the type of philosophical transformation necessary to improve the way Malaysia manages child offenders.
"The problem is that the current approach does not truly rehabilitate children. They go before the courts, and are shipped off to detention centers and reform homes, without really addressing the reason why have come before court in the first place.
"A project like what Dato Yasmeen is doing, which looks to divert children away from these possibly destructive processes, should be given serious consideration. It underlines what we need to be doing as a judicial system, which is looking at effective ways to rehabilitate children and position them to contribute to society."
The aforementioned statistic of unrepresented criminal cases stems from a 2008 study conducted by Parliament, which found that out of the roughly 110,000 criminal cases heard, 84,000 lacked a defense attorney. This alarming figure sent shockwaves through government agencies and human rights NGOs alike, prompting national discussion on how to amend the current legal aid structure.
This number, insisted Ms. Bastian, reflects a reality she faces on a day-to-day basis in her office, where a shrinking flow of volunteer lawyers is crippling the center's ability to handle the large demand of legal requests.
"Under the current scheme, lawyers have to pay 100RM every year to the National Bar Council for legal aid purposes. This means that lawyers not only have to pay for pro-bono work, but also volunteer time out of their private practice to take on legal aid cases. For many advocates struggling in these slow economic times, it is a difficult pill to swallow."
While the high rate of underrepresentation has reverberated throughout all types of legal disputes, it is especially troubling for juvenile cases. Children, admitted Ms. Bastian, are often prioritized lower other offenders, when in reality, they should be given some of the most focus.
"Right now, lawyer's are not mandated to undergo training in the 2001 Child Act and the Convention on the Rights of the Child (CRC). We have been meaning to coordinate a juvenile justice workshop this year, but have been tied up in other affairs. Our hands constantly get pulled in different directions with requests from various people and organizations.
"But we understand children are inherently unique, due to their inability to fully understand legal proceedings and properly defend themselves. We will hopefully run a comprehensive workshop next year to shift more attention to children's issues."
Every two weeks, the lawyers from the KL Legal Aid Office visit child detention centers in Kajang and Sungai Buloh to inspect conditions and provide legal advice. They continue to see children placed in reform homes and prisons for seemingly minor crimes.
"Thousands of children still languish in these places, for crimes as minor as not having an identification card, or stealing bananas."
She cited a particular story that is emblematic of the dire situation facing many child offenders, and what needs to be done to revitalize them.
"We came across one child who was admitted into a reform home because of a family issue. He faced frequent verbal and physical abuse from his stepfather, and when the boy finally cried for help, his stepfather brought him before court claiming he was beyond control. This is a caveat in the Child Act that allows parents to hand over their child to the courts if the child's behavior is deemed out of control.
"When interviewing the boy, he told us that all he wanted was a safe environment to study and live. A real home to live in. But the court never bothered to listen to the boy. They just injected him into the welfare department, maybe thinking it was easier to dispose of him that way rather than taking the time to really think about what would be best for him."
Dato' Yasmeen's project, she concluded, is the type of reform required to rehabilitate children like this boy. Reform of this nature would transform the perspective from which the judicial system looks at child offenders, and embraces a restorative justice approach that focuses on the crux of juvenile delinquency.
"Real rehabilitation is looking at individual cases and crafting specific solutions that will benefit the child, and allow him to re-enter back into the community. Right now options like this exist, and the magistrate can order mediation or family counseling. But these are vague clauses in the Child Act, and seldom exercised. We need to do a comparative look at what other countries are doing surrounding juvenile justice, apply the best practices, and formalize the process."
Dato' Yasmeen is doing just that. She is currently conducting research on regional neighbors – like Hong Kong and Singapore – who have adopted diversion for certain child offenses, and how these approaches can be welded into Malaysia's juvenile justice system. Early in 2011 she will present her findings, as well as a formal piece of legislation, to the Ministry of Women, Family and Community Development, in the hopes of encouraging federal reform that would overhaul how the judicial system deals with child offenders.
For Ms. Bastian, the change will not drastically effect the situation for legal aid in Kuala Lumpur because only a small percentage of cases are child-related. Nevertheless, Ms. Bastian is a lawyer who has dedicated her career to assisting the indigent and marginalized, and endorses Dato' Yasmeen's efforts.
"Realistically, our office will still be overburdened if Dato' Yasmeen's proposal is adopted, because only a small fraction of the cases legal aid handles involves a juvenile defendant. But from the perspective of someone who has been involved in the criminal justice system for years, and seen the damaging effects of how Malaysia has dealt with these youth, this is something that should be done. We must progress our system to effectively look at how the needs of child offenders are met to ensure that they are rehabilitated, rather than simply institutionalized, and possibly even worse, hardened as criminals."