Bijaya Chanda, JusticeMaker 2010 from India, has successfully been pursuing her bid to bring legal education to pre-trial detainees throughout West Bengal. Bijaya's work focuses on the lower rung of India's two-tier prison system. Most of the convicted prisoners are kept in the main jails; however, there are also Subsidiary Correctional Homes (sub-jails), which predominately house pre-trial detainees. According to the Indian National Crime Records Bureau, West Bengal incarcerates 3169 people* in sub-jails. Of those, 94% are awaiting trial.
Bijaya's project concentrates on educating pre-trial detainees and their families on their rights under Indian law and the constitution. Working in five of 27 sub-jails, all located between two and five hours from Kolkata, Bijaya hopes to train approximately 2700 pre-trial prisoners.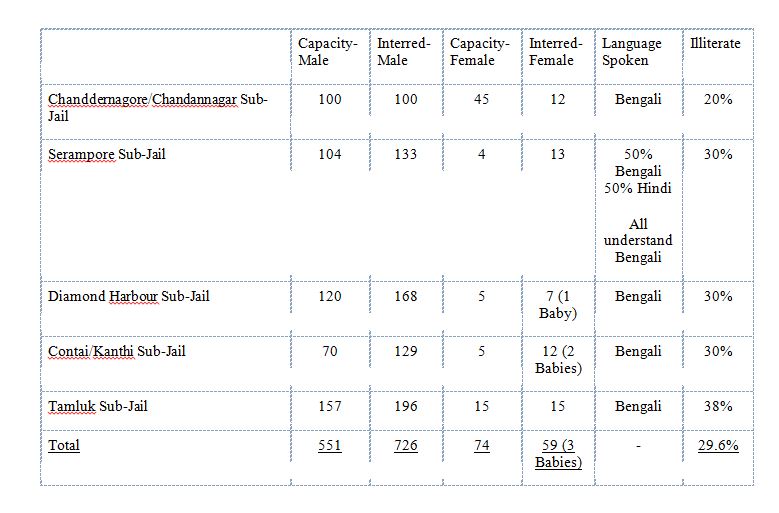 Due to the time consuming nature of her work, Bijaya has engaged volunteers to help her realize her vision of building an enduring, holistic training mechanism to educate underprivileged communities on their legal rights. Following her trainings, Bijaya is looking to recruit two volunteers from each of the five programs to continue disseminating the information. Two volunteers who have already agreed to assist Bijaya and can bring some added legitimacy to the trainings are Mr. Siddhartha Sengupta and Mr. Kumaresh Banerjee, both of whom had previously spent time in prison and now want to help others avoid similar mistakes. Their insights into how to focus the trainings and make them more relevant to the detainees have proved invaluable. Mr. Sengupta and Mr. Banerjee advised Bijaya that the biggest challenge facing trainers will be the limited attention spans of the inmates; thus, trainers should structure the larger sessions around topics which will be most interesting to the detainees, such as posting bail. They also noted that holding two separate trainings for the literate and illiterate inmates would be most effective.
In addition to direct support from individual volunteers, to spread the impact of her project, Bijaya has also partnered with APORIA (Kolkata), an NGO, who is assisting Bijaya by making posters for illiterate prisoners, developing modules with prisoner input and also helping in the creation of Hindi-language modules. Bijaya's other partners are 15 lawyers. Through assistance from these lawyers, Bijaya will be able to engage the police, prison officials and public prosecutors, educating them on the existing laws.
*It should be noted that the actual number of prisoners varies every day, old prisoners being bailed out and new prisoners coming regularly.