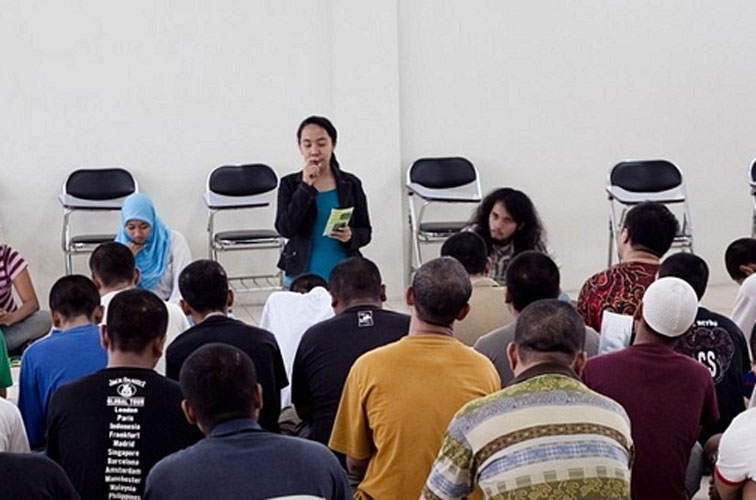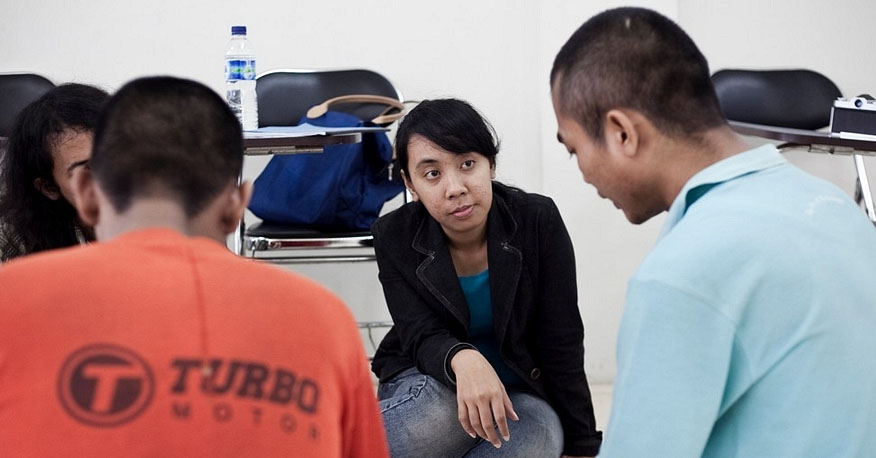 Indonesian JusticeMaker 2010 Ajeng Larasati recently completed a five-day training session in Cipinang Detention Center, Jakarta. Between 8 – 13 March 2011, she educated five tamping (convicted prisoners who hold jobs in the prison offices) on the legal rights guaranteed to detainees under the Indonesian Criminal Procedure Code.   Ajeng's hope is that these tamping will in turn act as teachers to pre-trial detainees in Indonesian jails, helping to make her trainings exponentially more effective.
Ajeng and her organization, LBH Masyarakat (Community Legal Aid Institute), believe that because the tamping have been in the same position as those detainees awaiting trial, they will have a more nuanced understanding of the problems and predicaments that these prisoners face—this would allow the tamping to deliver the material more efficiently. Additionally, Ajeng believes that the detainees will respond more receptively to advice given by the tamping.
The training sessions were initially conducted in three two-hour sessions on March 8, 9 and 10, in the office of Mr. Zulfikri, the head of the Legal Aid and Detainees Assistance Section of the Detention Center. During these sessions, Ajeng explained the appropriate parts of the Criminal Procedure Code to the tamping, and shared tips about effective non-verbal communication. The tamping were very proactive, cementing their understanding of the topics presented by asking how these applied to their own cases and the cases of their friends in the Center.
An additional training took place on 17 March 2011, when Ajeng conducted a simulated legal counselling session. During this sessions, the tamping were confronted with the kinds of problems that the detainees might be likely to bring them, and were required to give advice based on what they had learned during the previous training sessions—with feedback and critique from Ajeng. These kinds of practical sessions allow participants to practice their newfound skills, and because they are able to learn by experience, are much more effective than purely theoretical lectures and discussions.
The following day, the tamping began giving legal advice to some pre-trial detainees, under Ajeng's supervision. All participants reported that the session went very well, and Ajeng received good feedback from both the tamping and the detainees whom they were assisting.
Ajeng is currently in the process of planning a second training session, to be held in June 2011. She hopes to find a more spacious facility within Cipinang Detention Center so that she can train a larger number of tamping, and hopes that during future sessions she will be able to go into more detail regarding aspects of the Indonesian Criminal Procedure Code which pertain to torture and ill-treatment.