On March 25th, Justine Mwanaisha Saidi, IBJ's 2011 Justicemaker from the Republic of Congo (DRC), organized a training seminar for magistrates, judges, attorneys and court officials to enhance their knowledge of the requirements of preventive detention and the rights of detainees.
The seminar lasted the entire day, and the most important topic on the agenda was a detailed discussion by Innocent Bahati of the requirements to place an accused person in preventive detention. This matter was followed by a presentation delivered by Justine Saidi concerning the rights of detainees and the work of lawyers in the courts. The presentations were mixed with debates between the participants, which provided the seminar with a more interactive character despite its theoretical basis.
The seminar was attended by a diverse group of stakeholders. Among the participants there were magistrates and judges of the general court of Bukavu and Kavumu, members of the prosecution's office of Bukavu, a military judge of Bukavu's Military Court, and two attorneys. Several court officials were also present. Two invited judges of Bukavu's Court of Appeal were unfortunately unable to attend.
The DRC faces considerable challenges due to the lack or complete absence of appropriate legal frameworks and structures. There is, for example, no specific system to treat juvenile detainees while they are in detention or to facilitate social reintegration into the local community. The goal of the seminar organized by Justine Saidi was to work towards a solution of these problems. By addressing several of these issues, seminar participants are now more aware of the rights of detainees and will be better suited to enforce these rights.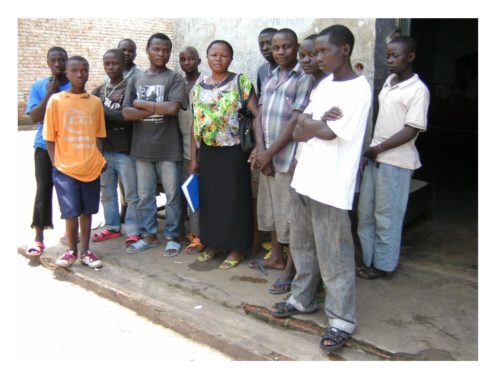 Justine Saidi (center) hosting seminar
After the seminar, Justine Saidi, developed a detailed report with the most important findings, conclusions and recommendations that followed from the discussions at the seminar. This report will be distributed among the participants, NGOs in Bukavu, and the government to raise awareness about these challenges.  Justine Saidi hopes to repeat this seminar experience, and plans to reach out to a wider range of participants for future events. She is also looking to engage the participants in more interactive discussions, which could lead to more tangible results.