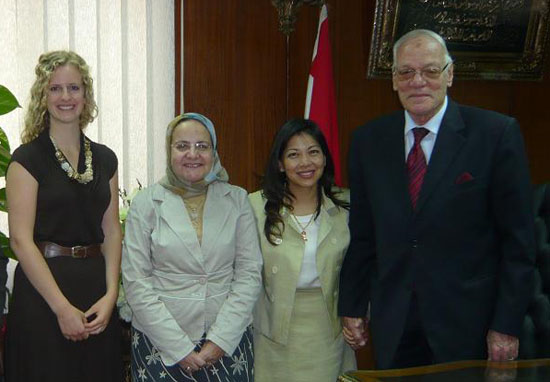 In May, IBJ conducted a mission to Egypt to speak with government officials and local NGOs about the status of criminal defense and legal aid after the revolution.
IBJ witnessed the spirit of optimism and hope that the revolution has sparked. Yet, it also became clear that Egypt is still at the very beginning of its journey to a democratic and stable country where human rights are respected. The decades of political oppression and the systematic use of torture have left their marks.
IBJ was received warmly by the government and local NGOs.  IBJ met the Minister of Justice, Mr. Mohamed El-Guindi. He expressed his strong support of IBJ's work and his wish to cooperate, laying the groundwork for future operations in Egypt.
Also, IBJ met with the Human Rights Center for the Assistance of Prisoners (HRCAP), an NGO doing great work in providing legal assistance to prisoners and advocating for the reform of prisons. Together with Mohamed Zarea, founder and director of HRCAP, IBJ discussed launching a joint program that would promote early access to counsel for the accussed.
Furthermore, IBJ held a meeting with various lawyers from Cairo and the surroundings. Together they brainstormed on how to make legal aid more effective and what needs to happen so that human rights are respected everywhere in Egypt. In the end the lawyers shared their dreams for the future of Egypt and all wished IBJ success for their future operations in their country.