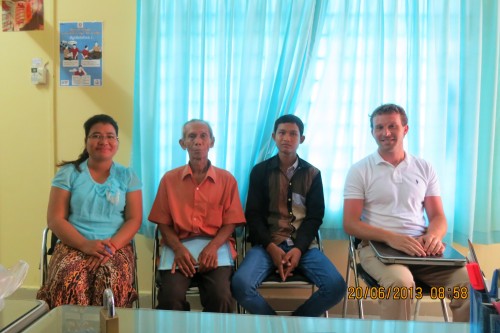 Sok (not his real name), a boyish-looking nineteen-year-old man, acted courageously by agreeing  to be interviewed in IBJ's Battambang office because this office is located inside the court complex where, just two months ago, he nearly lost ten years of his freedom. currently, IBJ is experimenting with three such offices inside court complexes because the location makes us more visible to the accused and their families. The fear, however, is that the proximity might lead the families to associate IBJ lawyers with court officials and, as a result, be more skeptical about the promise of free legal services since the common perception is that court officials strike deals with private lawyers, referring cases for a percentage of the lawyer's fee. For Sok, returning to the complex raised a different issue: it meant reliving the nightmare of standing inside the courtroom, anxiously waiting for the judge to pronounce his verdict and determine the next ten years of his life. As a result, even having returned of his own volition, his eyes still shifted around the room a little nervously. His grandfather made the trip with him. Although elderly and hunched over, the grateful and determined expression on his face told how important he considered it to come and show his appreciation to Ms. Poeung Kalyan and her two assistants, Ms. Ouk Kalyan and Ms. Moeu Sothearet, whose hard work brought his grandson home.
On August 6, 2012, Sok was working for the owner of a cornfield when he heard that a woman had been killed in a nearby field.  Later that afternoon, while he was napping, the police arrived to ask routine questions of everyone in the vicinity of the crime scene. Sok told them that he had not been recently to the field where the murder had taken place. The police were apparently unconvinced because at 8 AM the next morning they arrested him with two of his neighbors while they were outside playing football. They sent them to the local police post and interrogated them for an hour on suspicion of aggravated murder. Perhaps because of the gravity of the offense, the police, somewhat uncharacteristically, advised Sok of his right to a lawyer. He was taken to the provincial-level commissariat, then to the court. There, under the scrutiny of the prosecutor's questioning, one of other two suspects blamed the murder on Sok. Although this man was only an acquaintance and also a known drunkard and liar, Sok was still shocked to find himself implicated in the murder. As the authorities gathered more evidence, the man's own involvement in the crime became apparent, but that fact did not lead them to discount his accusation.
Thus, Sok spent nine months in pre-trial detention. His grandfather contacted Ms. Poeung after hearing IBJ's commercial on the radio. Unfortunately, most of the other prisoners did not know about IBJ, although Sok did notice IBJ's poster hanging at the entrance to the prison. There was enough food and water to go around in prison, but because of overcrowding he had to share his six-by-eight-meter cell with twenty other people.  His family could only afford to visit him once each month. Sok's incarceration obviously took an emotional toll on them, but also losing the contribution of his wages strained the family budget, especially as they continued to pay for his two younger brothers' education.
In all, five people stood accused of the murder, but one had successfully fled to another province and the other, because he was a thirteen-year-old juvenile, could not be detained or given a prison sentence under Cambodian law even though he had confessed to being an accomplice in the murder.[1] In lieu of detention, the boy's family was ordered to pay six million riel ($1,500) in compensation to the victim's family.
The trial was first delayed on February 21, 2013, because a lawyer of one of the accused had been told the trial date too late to prepare his case properly. It was delayed again on April 1, when the same lawyer was granted a postponement because the juvenile, whose testimony he hoped would incriminate Sok, had refused to appear in court. It was delayed for the last time on April 25 because one of the three judges required for felony cases could not be present.[2]  Finally, on April 30, the court declared its verdict: Sok was entirely acquitted. However, in accordance with the code of criminal procedure, he was sent back to detention while the prosecutor considered whether to appeal the judgment.[3] Fortunately, the prosecutor only took ten days to decide not to appeal and Sok was released. The two men accused with Sok, on the other hand, were each declared guilty and given ten-year sentences. The man who fled also received a ten-year sentence in absentia.
Sok now takes care of a local farmer's cows in exchange for the next calf to be born. He has forgiven the man whose false accusation robbed him of almost one year of his life, but he has not forgotten the terror he felt in detention. Even when his family had secured him a lawyer, the other prisoners constantly reminded him how unlikely he was to be acquitted. They believed, and had convinced him, too, that he would remain in prison until he was almost thirty years old. He is happy that Ms. Poeung proved them all wrong.
Contributed by Daniel Ginnetty
---
[1] "A minor under 14 years old may not be temporarily detained." code of criminal Procedure of the Kingdom of cambodia (CCPKC) bk. 4 tit. 1. ch. 3 §5 art. 212 (2007). Prison penalties are only applicable to minors over the age of 14. Criminal Code bk. 1 tit. 3 ch. 6 §1 art. 160 (2011).
[2] "Three judges of the court of First Instance shall sit en banc to judge upon a felony." CCPKC bk. 5 tit. 1 ch. 1 §2 art. 289.
[3] The prosecutor has up to one month to decide whether to appeal the judgment of the court of first instance. CCPKC bk. 5 tit. 2 ch. 2 art. 381.