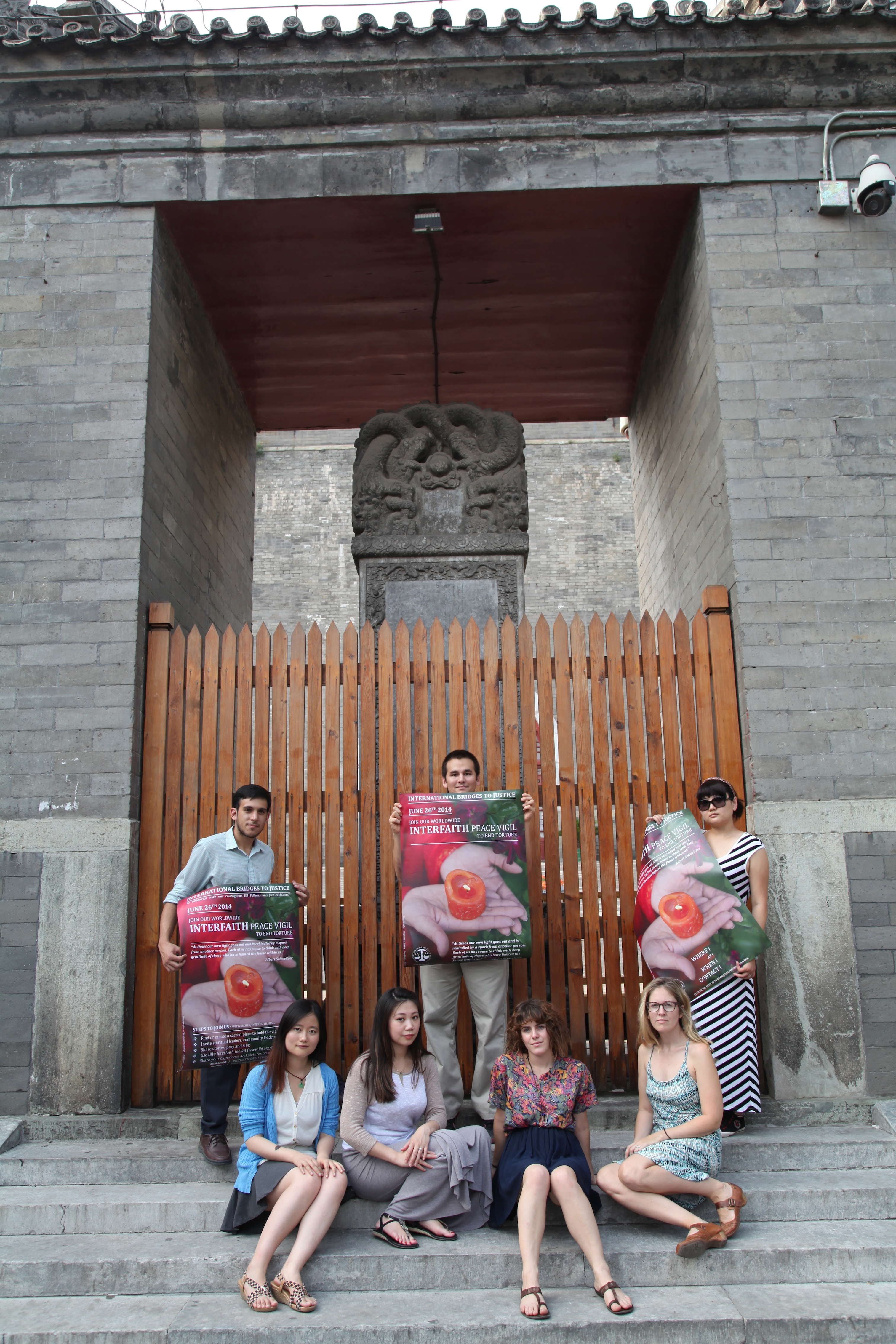 Derek Brow
On June 26, 2014, the IBJ China Program office in Beijing hosted an interfaith vigil event for the purpose of sending the message to end torture worldwide. During the vigil, prayers and sermons from various faiths were recited by employees and interns at the IBJ, which included messages from the Protestant, Catholic, Muslim, Jewish, and Buddhist communities. Each prayer or sermon contained a theme of ending torture and promoted peace and healing.
The IBJ China team posted IBJ banners in our office during the vigil and also lit incense on an altar at the office. After the vigil, the IBJ team went to various locations around Beijing to take additional photos with the IBJ Vigil banners, including the famous Drum Tower in Guloudajie, the Bell Tower in Guloudajie, and the Bird's Nest site in the Beijing Olympic Center.
What made this event so worthwhile was that it gave the IBJ China office a chance to step back and reflect on the IBJ's short-term and long-term goals in the aspect of torture. We were reminded of Karen Tse's message for why this is such an important and meaningful cause, and her experiences are a significant driving force behind the IBJ's projects. This vigil demonstrated how people of different faiths and different cultures could unite in achieving the same peaceful resolution, and that message was truly inspiring to me.
After reciting the prayers and messages from different faiths during the vigil, I was reminded of the significance and value of the IBJ's work around the world, and I felt further motivated to contribute to the IBJ in any way that I can. I truly hope that other IBJ workers and volunteers around the world were as affected by this vigil in the same way that I was. No matter what our faiths or backgrounds are, we can all work together in achieving our goals if we continue to stay motivated and remain persistent. For all these reasons, the vigil was a great success and I am truly grateful for having this experience with my IBJ team!