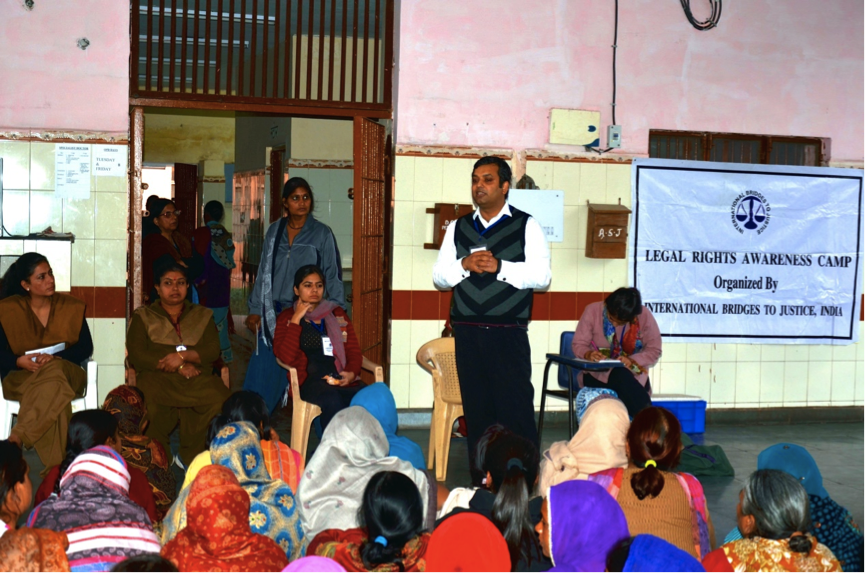 Pankhuri A. Mehndiratta
December 2014
On December 4, 2014 the IBJ India team visited Central Tihar Jail No. 6 in New Delhi to interact with jail inmates and conduct a Legal Awareness Camp inside the Mulahiza Ward (i.e. First Time Offenders Ward). The team consists of Ajay Verma (Fellow & Advocate), Pankhuri A. Mehndiratta (Advocate) and Trishna Mohan Kriplani (Advocate).
The Tihar Jail #6 houses a total of 642 (exclusively women) inmates according to its latest figures, among which there are 29 foreign nationals. A staggering 73% of the entire prison population (472 prisoners) is under trial. This statistic once again sheds light on the issue of overcrowding almost all prisons in India with mainly under trial population. The rules under the Delhi Jail Manual and Delhi Prisons Rules (2000) permit women inmates to keep their children with them until they attain the age of six years. In line with this provision, there are 44 children who are housed in the Tihar Jail # 6 complex as well.
The session was interactive and was received very positively by the inmates and prison administration alike. The IBJ India team identified a number of critical issues that needed intervention. Firstly, there are some issues involving legal documents of prisoners allegedly being stopped from leaving the premises by jail authorities when they are transferred to court. The prison's Superintendent also noticed the jail inmates' concern regarding this issue.
Secondly, IBJ India noted a deep-rooted sense of anxiety amongst inmates about the law procedures where the lawyers appointed by the Legal Aid services are perceived to be 'sarkari' (government) lawyers. In prisoners' perceptions, these lawyers collude with state authorities to make them punish more stringently. As Legal Aid services are ultimately government funded, inmates were interested to find out whether they are inclined towards working in favor of the government and against inmates' interests. Prisoners were then properly informed about the structure of Legal Aid of Government of India, Delhi State Legal Services Authority and also about IBJ's work in providing access to effective lawyers.
The IBJ India team identified certain cases that required its intervention and has taken them up to be pursued by IBJ's pro bono task force that actively works in trial courts. IBJ India continues to benefit from the support of the prison administration and strives to ensure the minimization of torture and prison overcrowding. The employed strategy here is early access to legal counsel and advocating the right to bail.