The African Great Lakes region has for centuries been the scene of vibrant cross-border exchanges and trade. Despite conflict and instability in both the Democratic Republic of the Congo, Burundi and Rwanda in recent decades, many of the region's inhabitants enjoy friendships across national borders.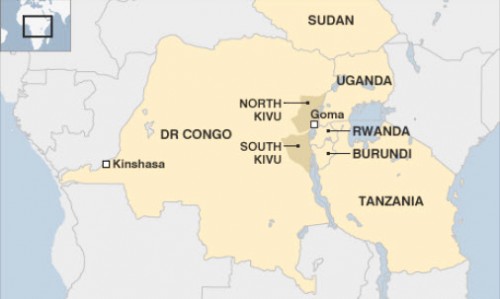 Belyse (not her real name), a young mother of 6 from Bujumbura in Burundi, is one such individual. With the Congolese province of South Kivu only a short bus ride away, Belyse crossed the Burundi-Congo border on June 14 and headed to Bukavu, to visit an old friend. Little did she know that before arriving at her friend's house, she would become a victim of a false accusation.
Having made her way to Bukavu, Belyse was approached by a stranger on the street who accused her of cheating her out of money. Belyse had never seen the woman who accused her before. The stranger started to cry and scream, pulling at Belyse's clothes and gathering a crowd of angry onlookers, who joined the stranger in hitting and punching Belyse.
Terrified and surrounded by a hostile crowd, Belyse asked to be taken to the nearest police station for safety. However, when she arrived at the nearby Muhungu La Voix Police Station, rather than offering her protection after being subjected to violence in the street, the police detained Belyse after the unknown woman who had instigated the attack told the officers that Belyse had swindled her out of money.
As a native Kirundi speaker, Belyse was unable to communicate properly with the prison guards and prosecutors, as the main language spoken in eastern Congo is Swahili. Detained in police custody then imprisoned in Bukavu Central Prison, Belyse had her legal and travel documents taken from her by a police officer – a common practice throughout the DRC.
At the moment when her situation looked hopeless, IBJ lawyers were able to step in and intervene on her behalf. Meeting with prosecutors and investigating magistrates, IBJ's lawyers were able to able to obtain her legal documents from the police officer and obtain her release from detention, demonstrating that the charges against her were groundless. After her release, she was brought to IBJ's office where she shared food and tea with the IBJ Congo team. IBJ then provided her with the money to purchase a bus ticket to return home to Bujumbura, where she was reunited with her 6 young children.
Furthermore, the IBJ Congo team put Belyse in touch with the IBJ team in Burundi, to whom she can turn for help once she is back home.
Belyse was overcome by immense joy at being freed. She expressed her sincerest thanks to IBJ not only for helping to release her from prison, but also for making sure she was able to safely return to her country and her children. As a widow, Belyse is their sole caretaker.
Calling the IBJ Congo office upon her return to Bujumbura, she sends her blessings to all of the IBJ team.