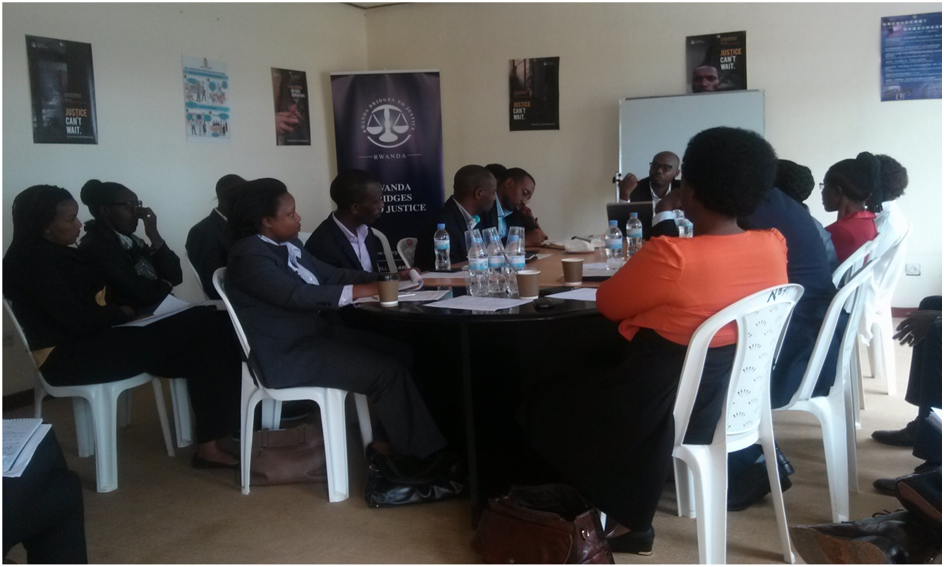 On November 4, IBJ completed the successful registration of its local Rwanda chapter, Rwanda Bridges to Justice (RBJ) following the receipt of an official letter of recommendation to implement its activities in Rwanda from the mayor of Nyarugenge district.
Following this milestone, RBJ invited its dedicated task force of lawyers for a meeting to its Defender Resource Center in Kicukiro, in Kigali Province, on the 18th of November.
The purpose of the meeting was to examine the next steps towards achieving RBJ's mission to ensure systematic early access to legal representation for all accused persons, thus protecting the basic legal rights of all Rwandan citizens. Together with the 24 human rights defenders in attendance, IBJ Fellow John Bosco Bugingo discussed what could be done to support national legal aid in criminal matters and help achieve the country's national objective to achieve Access to Justice under UN Sustainable Development Goal 16.
At the meeting, the Task Force lawyers renewed their commitment to promote a pro-bono legal culture – which is key to providing systematic early access to counsel. Challenges to taking on pro-bono cases were discussed, and several recommendations emerged on how to improve RBJ's efficiency in providing assistance at the earliest stage of a criminal procedure.
Furthermore, IBJ Fellow John Bosco Bugingo detailed the ways in which RBJ provides support to volunteer lawyers, including mentoring and training opportunities at the Defender Resource Center, online training resources such as IBJ's eLearning and Defense Wiki, and other capacity-building initiatives aimed at improving the efficiency of legal aid.
Finally, the Task Force acknowledged RBJ's essential role in ensuring access to justice and encouraging pro-bono culture in Rwanda, and in developing key partnerships with the Rwanda Bar Association (RBA), Association des Jeunes Avocats du Rwanda (Aja-Rwanda) and the Legal Aid Forum. Lawyers committed to maintaining partnerships with existing partners, and to foster collaborative dialogue with justice officials and policymakers through roundtable discussions.
Participants warmly welcomed RBJ's initiative to set up this Task Force meeting. They enthusiastically stressed that RBJ's essential work must continue and expand, and they reassured their commitment to assist RBJ in its mission to ensure systematic early access to counsel and to protect the fundamental rights of all accused in Rwanda.