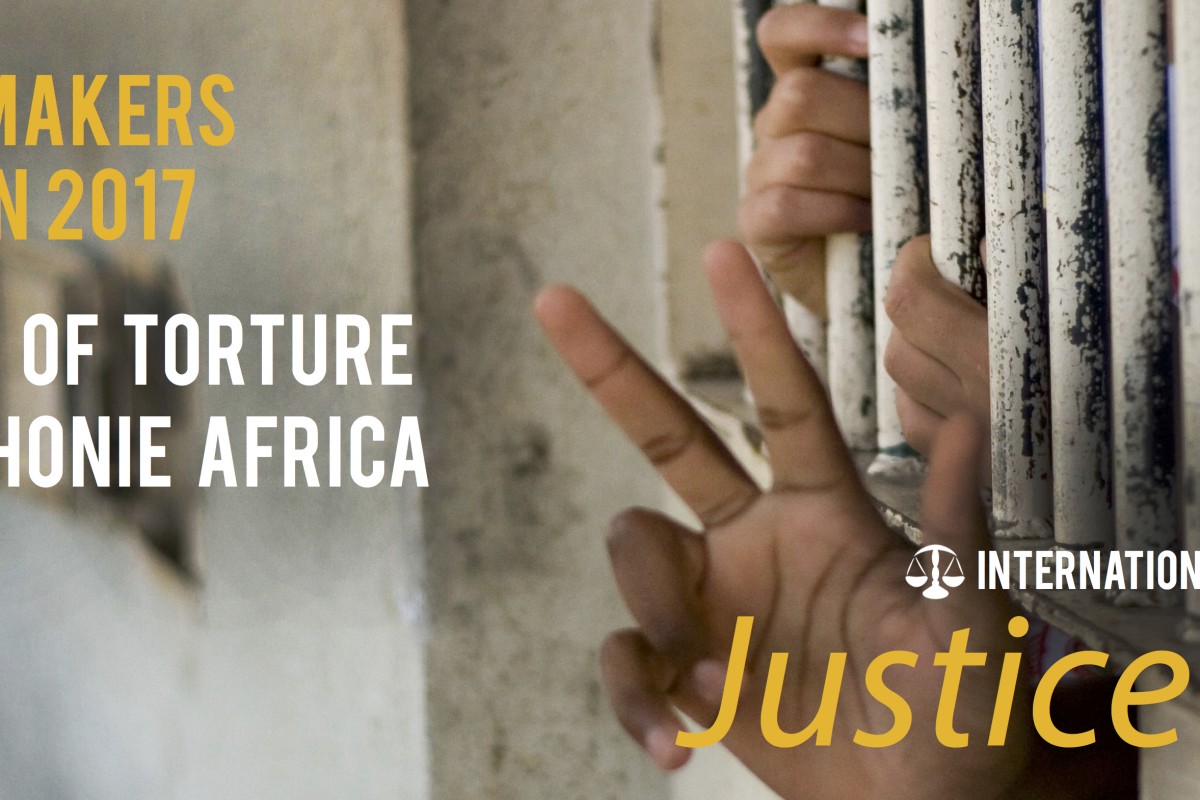 The 2017 JusticeMakers Prevention of Torture Competition in Francophonie Africa
Geneva, Switzerland – December 1, 2016 – Today, International Bridges to Justice (IBJ) is announcing the launch of its 2017 JusticeMakers Prevention of Torture Competition in Francophonie Africa. JusticeMakers is the world's first global, online, innovative platform in the area of criminal defense.
IBJ is reaching out to lawyers, human rights defenders, justice and law enforcement officials for innovative proposals and strategies to promote criminal justice in Francophonie Africa. The Competition will award US$5,000 in project funding to lawyers/defenders who have the most innovative and sustainable access to justice projects aiming to prevent/eradicate torture as an investigative tool and increase awareness and enforcement of due process rights in their communities.
"Investigative torture is not an exception but a norm in many developing countries. IBJ has courageous JusticeMakers Fellows around the world working to prevent torture and protect the most vulnerable," said Sanjeewa Liyanage, International Program Director of IBJ. Mr. Liyanage further stated, "We are pleased to seek defenders in Francophonie Africa and recognize them for what they do and support them in the long run."
As of today, IBJ has built a global community of 59 JusticeMakers Fellows from 38 countries throughout the world. One of its main components is the online competition, which identifies, trains and funds hidden heroes of justice worldwide who are committed to advocating for positive reform within their respective countries.
The JusticeMakers Competition requires individuals to submit proposals detailing an innovative strategy for promoting criminal justice implementation at grassroots level.
IBJ initiated the JusticeMakers Program in 2008 in an effort to connect defenders in their quest to curb torture and legal rights abuses in their respective communities. Since then, IBJ has conducted six global and regional JusticeMakers competitions. The JusticeMakers Program fuels the international movement towards ensuring that every man, woman and child has the right to competent legal representation, a fair trial and protection from torture as well as cruel, inhumane and degrading treatment. As the result of collaborative efforts and through the use of web technologies, an online community platform was launched, which serves the purpose of building a unified network of defenders, facilitating discussions and hosting competitions which fund projects to curb the abuse of legal rights within participants' respective communities.
The Competition winners and previous JusticeMakers Fellows form lasting relationships with hundreds of partner organizations across the globe, including but not limited to: governmental and civil society organizations, universities, and national bar associations.
For more information about the JusticeMakers Community and to apply for a 2017 JusticeMakers Fellowship 2017, visit http://www.justicemakers.ibj.org.
For specific questions please send an email to justicemakers@ibj.org.
The 2017 JusticeMakers Competition is sponsored by Global Affairs Canada.
About International Bridges to Justice (IBJ)
In recognition of the fundamental principles of the Universal Declaration of Human Rights, International Bridges to Justice (IBJ) is dedicated to protecting the basic legal rights of ordinary individuals in developing countries. Specifically, IBJ works to guarantee all individuals the right to competent legal representation, the right to be protected from cruel and unusual punishment, and the right to a fair trial. IBJ currently has programs and projects in over 40 countries in the world, including Burundi, Cambodia, China, Democratic Republic of the Congo, India, Rwanda and Zimbabwe.
Press contact:
Sonia Liang
Email: sliang@ibj.org, justicemakers@ibj.org
Telephone: +41 22 731 2441