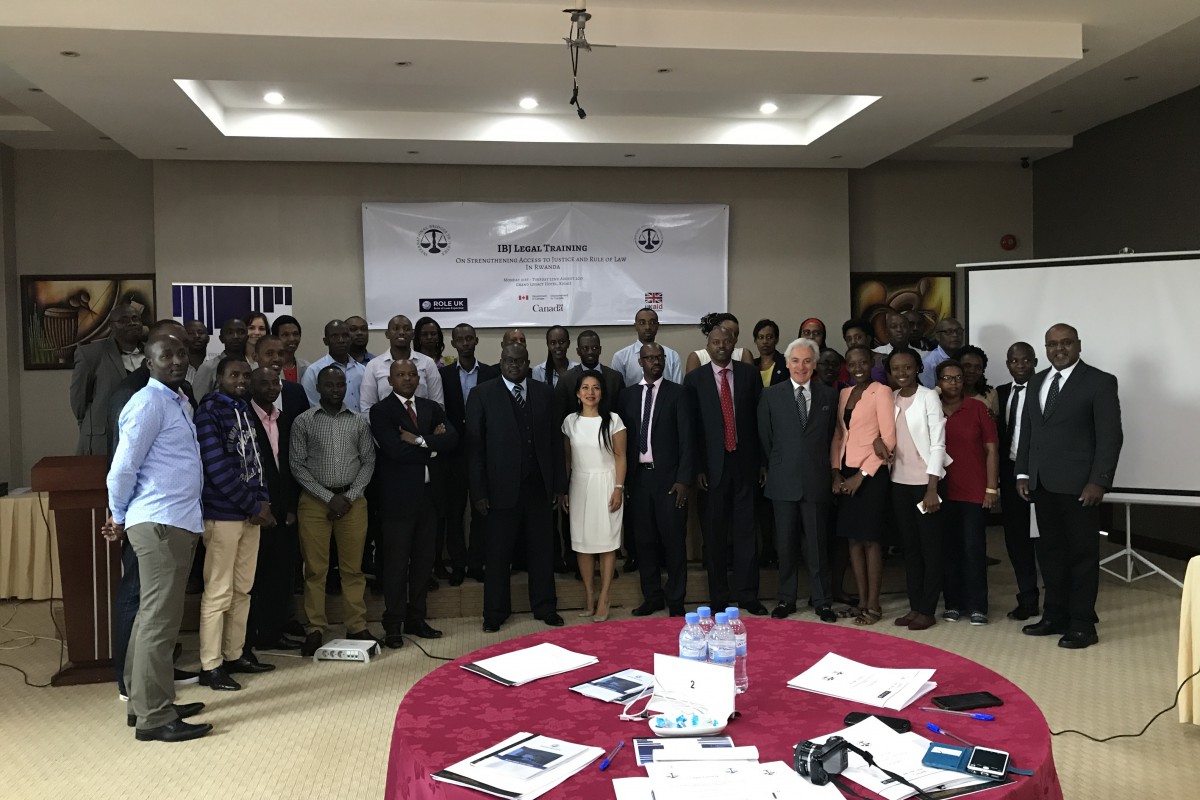 In collaboration with Global Affairs Canada and ROLE UK, IBJ held a two-day legal training session on Strengthening Access to Justice and the Rule of Law in Rwanda on 21st and 22nd August 2017.
Held at the Grand Legacy Hotel in Kigali, and attended by 45 Rwandan lawyers, the training was led by five expert trainers with complementary skills, Karen Tse, IBJ Founder and CEO, John Busco Bungingo, Senior Advocate and Rwanda Bridges to Justice Manager, John Ryder, Common Law Expert and UK Judge, Johnson Kabera, Senior Advocate and former Prosecutor, and Sanjeewa Liyanage, IBJ International Programme Director.
A wide variety of modules were covered over the two-day sessions and focused on improving the lawyer's practical skills, as well as strengthening links and cooperation between defenders, to ultimately foster the development of a pro-bono legal culture. On the second day of the training, participants were given an opportunity to apply what they had learnt in a moot trail.
Alongside the practical skills covered, the participants were encouraged to reflect upon their values, ethics, and motivations as defense lawyers, with the aim of building a sense of support and solidarity between the lawyers. Following one of these motivational sessions, Richard, an attending lawyer at the training session stated;
"We are the ones who will bring the change we want to see in our criminal justice system. We have to own it."
All 45 lawyers were provided with a criminal defence manual to complement the training. The manuals included a check list of appropriate steps to follow after receiving a client, and provided detailed advice on defence strategies.
The post-training survey revealed the participants thoughts on the training. Attending lawyer Bashir stated, "We need more training of this kind."
Responding to John Ryder's presentations, participant Célestin said, "I was so impressed by the lectures of Justice John Ryder for the practical knowledge and experience that he shared, specifically on opening and closing statements."
All training presentations and materials can be accessed on IBJ's eLearning website: https://elearning.ibj.org/course/view.php?id=98