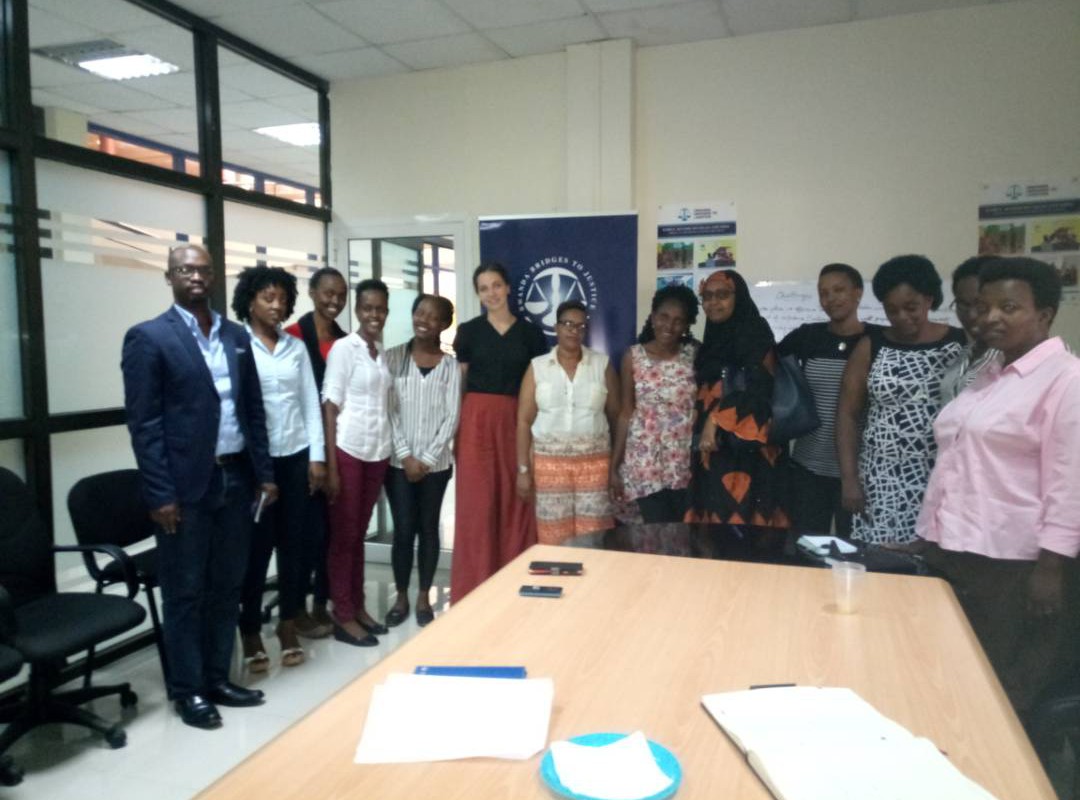 On Friday 13th of October 2017, a dozen female lawyers gathered in Rwanda Bridges to Justice's office for the first "Women Lawyers Network Coffee Meeting". The need for such an event was initiated during IBJ's August training sessions on Access to Justice and the Rule of Law, where female participants were given an opportunity to discuss the challenges faced by women in the criminal justice system, thus highlighting the need for mentoring and networking opportunities dedicated to female lawyers in Rwanda.
RBJ wishes to host monthly meetings with the aim of providing a forum where female lawyers can come together to informally discuss the challenges identified and formulate the most effective approaches to those particular challenges.
In his welcome speech, RBJ Fellow John Bosco Bugingo invited participants to reflect on their current situation as female advocates, on the reasons that drove them to become lawyers, on the challenges they face and on the strengths they can rely on to overcome these challenges. "We are giving you a platform to network, share experience, encourage each other and grow stronger as professional female advocates" – he said.
The goal of this first meeting was to identify the most common challenges female lawyers face and develop a agenda for upcoming meetings.
Some of the challenges mentioned by participants included intimidation from male colleagues, in particular through sexist jokes undermining their professional credibility, lack of self-confidence and the quasi-absence of strong female role-models to look up to. As one of the participants stated: "When you reach university you look for those bright female students who studied with you in secondary school and you say, where did they go? […] Where are the women to look up to? There is no female lawyer with a successful law firm in Rwanda. We have no one to admire."
The women also discussed the difficulties of balancing a career and motherhood, as well the struggle to be taken seriously both by clients and by male colleagues.
Two of the participants shared some of the inappropriate comments that had been directed at them:
"Can you at least find a ring and put it on your finger?" was suggested to one female lawyer in order to be taken more seriously in her work.
"Sometimes you come (to see your client) and they say: – I want to talk to a lawyer! So you reply – I'm standing right in front of you. And they look down at you and say – you?!"
As discussions unfolded, participants began giving each other advice and sharing experiences.
One of the most experienced lawyers within the group recommended that the women ignore the sexist comments and stay focused on their work load; "You just show them what you are capable of" she said.
Based on those discussions, participants suggested topics and activities for the upcoming meetings and it was decided that depending on the topic, sessions will tap into collective knowledge, and/or invite guest speakers such as female leaders/lawyers (national and international), Civil Society Organizations, or experienced lecturers and practitioners. It was also agreed that participants facing a particular challenge at the time of the meeting (with a case, with colleagues, with clients, etc.) would be given time to present this challenge to the group and receive advice from their colleagues. Finally, moot court sessions will be organized to help women become more confident in their legal and public speaking skills.
These "Women Lawyers Network Coffee Meetings" are the first component of a broader project. Designed based on discussions that took place during the August training, this project will aim to support female defenders in their daily work and improve gender-sensitive criminal defense available for female defendants within Rwanda's criminal justice system.