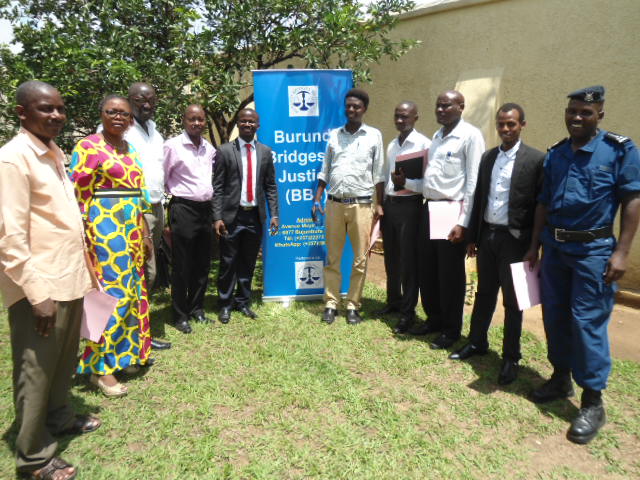 On 10th November 2017 Burundi Bridges to Justice held the first Community Work, Dialogue, and Rights Awareness event in the commune of Kamenge, Bujumbura, involving a total of 127 individuals. With approximately 15% of the population in Burundi being illiterate, BBJ have over the years developed a wide range of methodologies designed to be inclusive of the whole population. The event was heavily focused on interactive and audio/visual activities.
The community aspect of the event involved bringing together members of the commune to repaint the Office of Representatives of the Population and the local meeting room of police officers. Small building renovations were also carried out on a number of properties in the vicinity, with the aim of fostering community spirit
Following the community work, the volunteers gathered with members of a neighbouring commune, Ngagara, along with a number of police officers, to partake in a dialogue and rights awareness event at the Centre Jeunes in Kamenge. These two communes were specifically invited to take part in the event following their background during the political turmoil in Burundi which began in 2015. Kamenga had been a particularly peaceful commune during this time, whereas Ngagara had been a hive of public demonstrations.
The aim of the dialogue session was to restore the trust that had once existed between the population and the police force. The session was opened with an interactive activity highlighting how police officers are often stereotyped as being untrustworthy, when this is not a reality. The activity was followed by a discussion led by a dialogue facilitator focusing on the mistrust that developed between the public and the police force during the political turmoil and public demonstrations. It was highlighted how police officers, in an attempt to keep the peace and carry out their duties, may have demonstrated behaviours that caused this feeling of mistrust within communities. To end the dialogue session, the participants discussed what commitments could be made in order to rebuild this trust.
At the end of the event, a rights awareness discussion took place, informing the public of a number of legal safeguards that exist to protect the rights of the accused. Ensuring that people are aware of their fundamental legal rights that are enshrined in Burundian laws and empowering them to claim these rights can ultimately lower the rate of violations against pre-trial detainees.