"I am a public defender

I am a guardian of the presumption of innocence, due process and fair trial.

To me is entrusted the preservation of those sacred principles…"

-James Doherty, 1967
This oath was taken by 80 defense lawyers, prosecutors and police officers who attended a three-day legal skills training workshop from 7-9 November 2018 in Kigali, Rwanda. This session was a part of the "Protecting Human Rights within Rwanda's Criminal Justice System" project funded by the European Union and implemented jointly by IBJ, Rwanda Bridges to Justice (RBJ), the Rwandan Bar Association and Dignity in Detention Foundation (DiDé). The training was specifically tailored to address the needs of two different, yet interrelated Rwanda justice key groups: Rwandan criminal defense lawyers and the prosecutors and police officers attached to the Rwanda Investigation Bureau (RIB).
Practical Trial Advocacy Skills Training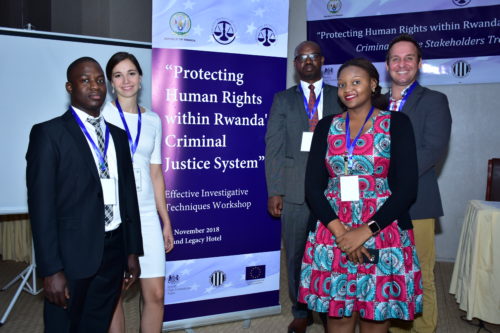 Under the guidance of IBJ and other international and local trainers, Rwandan criminal defense lawyers covered practical trial advocacy skills including case development strategy, pre-trial procedures, interview techniques, torture and dealing with coerced confessions coached by our trainers: John Bosco Bugingo (RBJ Country Director), Sanjeewa Liyanage (IBJ's International Program Director), Bob Burke (Defense Trainer and Consultant), Jacques du Preez (IBJ Legal Training Director) and Musore Gakunzi Valery. This workshop trained 40 practicing lawyers from Kigali and the Eastern Province.
Training that Advances Gender Parity and Local Ownership
Furthermore, IBJ commits itself in advancing gender parity and local ownership in all of its work, specifically in la Francophonie, the training session thus embraced two special modules focusing on the challenges encountered by women lawyers in Rwanda and on representation and assistance of female detainees. These modules were presented by experienced female trainers from RBJ and DiDe – Joëlle Kabagambe (senior lawyer at RBJ Defender Resource Center) Sophie Musabeyezu (Psychologist, DiDe).
Finally, with a view of strengthening Rwandan pro bono culture, every lawyer was encouraged to take on pro bono cases as part of their solemn legal duty to ensure that even the poor and vulnerable have access to a competent defense.
Technical Investigation Skills Training
The second training guided police officers and prosecutors attached to the Rwanda Investigation Bureau (RIB) through technical investigation techniques including how to conduct an effective investigative interview with the accused and/or victims as well as gathering of numerous aspects of forensic evidence (including crime scenes, DNA gathering and safeguarding). A further aim of this workshop was to underline how physical and psychological abuse during interrogation jeopardize investigation and case file credibility. 40 investigators, prosecutors and lawyers from Kigali and the Eastern Province joined for this workshop and IBJ is particularly proud to have retained, for this training workshop, the services and skills of senior (now retired) FBI agent Emmanuel Johnson Jr. from the United States.
On a final note, this session was extremely successful as evident from the feedback received:
"Thank you very much for the notes. I really enjoyed the training, I am exploring the skills I gained and I am ready for any further training and workshops." – Me MUHIRE Jean Marie Eugène, Advocate at Rwanda Bar Association
Next steps
IBJ will continue to expand its work in Rwanda exponentially. As always, it will continue to build on its positive relationship with the Institution of Justice in Rwanda. As for now, IBJ and RBJ are already planning on organizing training for Judges in 2019.