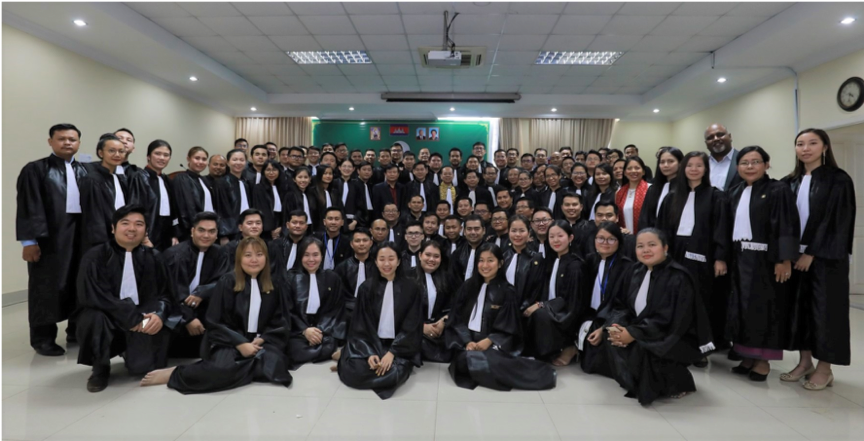 At a training attended by nearly one hundred young lawyers, Cambodia Bridges to Justice presented the newest way to advance access to justice: a mobile phone application set to revolutionize legal aid in Cambodia.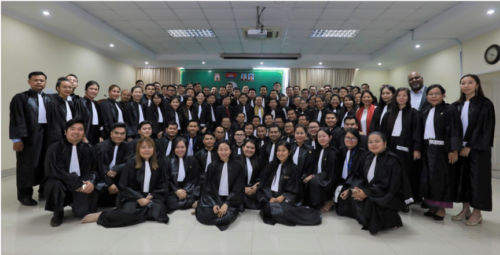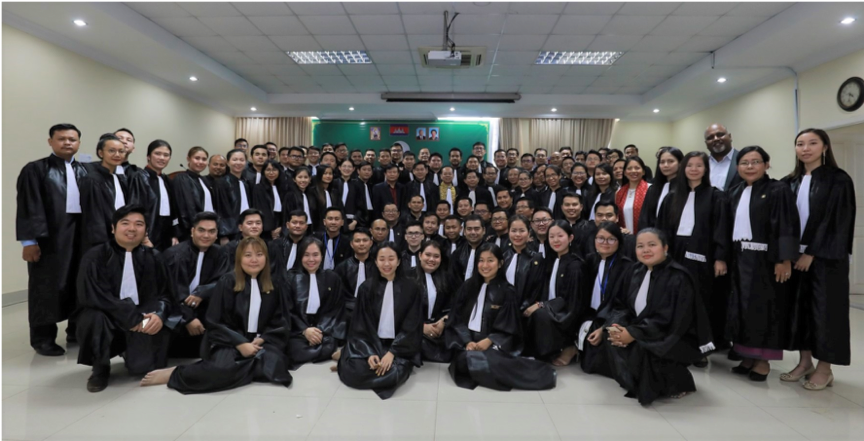 Cambodia Bridges to Justice (CBJ) held its latest training in Phnom Penh with the help of International Bridges to Justice (IBJ) and the Bar Association of the Kingdom of Cambodia (BAKC). The event was an important milestone for CBJ, which is supported by the United Nations Democracy Fund (UNDEF). The event accomplished two important tasks: launching the new mobile phone application "iConnectJustice" and providing lawyers with practical criminal defense skills.
iConnectJustice is the first of its kind: a legal aid app that pairs pro bono attorneys with people in need of free legal representation. The app is an innovative step toward expanding access to justice in Cambodia. Anyone can download and register to use the app's services. Within minutes, users can enter case details that are sent to a large community of pro bono lawyers. In mere seconds, lawyers can accept a case and contact the client.
The app seeks to solve two problems hindering access to justice in Cambodia: (1) the majority of society is unable to pay for legal representation and (2) finding a lawyer can prove challenging, particularly in rural areas. iConnectJustice resolves both of these issues by making it easier than ever for citizens to request a pro bono lawyer's services.
The lawyers at the training were eager to learn how to use the app. Participants predict this app will become popular in Cambodia, and a striking 98.6 % of attendees plan on using iConnectJustice in the future. As more lawyers register with the app, client registration is also expected to spike.
In addition to the app launch, CBJ's training provided lawyers with practical knowledge to sharpen their criminal defense skills. The training covered topics such as "The Rights of the Accused in Cambodia", "The Rights, Duties & Responsibilities of Defense Lawyers" and "Effective Cross-Examination and Closing Arguments." IBJ and the BAKC enlisted Michael Karnavas as a trainer for these modules, a highly skilled defense lawyer respected in throughout the world. He shared his knowledge of the Cambodian judicial system and applied theoretical lessons to its particular challenges. Karnavas engaged attendees by sharing his experiences in court and the lessons he has learned. At the conclusion of the training, all of the attendees stated that their proficiency in Criminal Law had improved.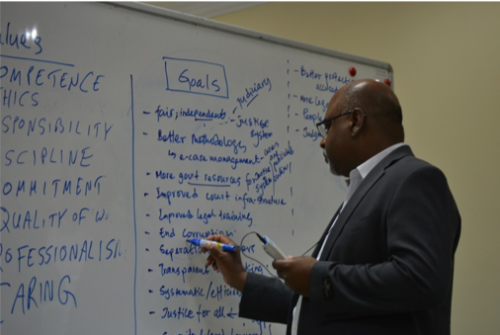 Karen Tse and Sanjeewa Liyanage of IBJ, experienced in conducting community-building exercises and trainings, encouraged the participants to interact with one another, sharing their stories, values, and visions for an ideal Cambodian justice system. The attendees were enthusiastic about presenting the results of their small group discussions. Six young Cambodian lawyers shared their group's reflections on current challenges of the justice system in Cambodia and what steps they could take to improve justice overall. The participants showed that they are a new, optimistic generation of lawyers, ready to build a functioning justice system in their home country.