On 2 June 2022, Cambodia Bridges to Justice (CBJ) was awarded the Access to Justice Prize for its high-impact work in Cambodia's Courts of Appeal at the World Justice Forum. 
The World Justice Forum is the premier international event for the rule of law. As part of the Forum, the World Justice Challenge is a global competition to identify, recognise and promote good practice and high-impact projects that protect and advance the rule of law. Selected from a pool of 305 applicants from 118 countries, CBJ was invited to showcase its project, Championing Access to Justice: Improving Cambodia's Courts of Appeal system at the Forum. At the Closing Plenary of the World Justice Forum, the winners of the Challenge were announced and CBJ was awarded the prize for Access to Justice.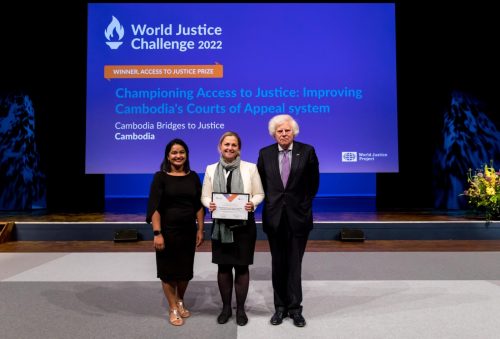 "It is an honour to be awarded the Access to Justice prize. This has been an important platform that has helped us tell our story and the story of access to justice in Cambodia. I am proud of our dedicated team working in difficult circumstances providing legal aid for people suffering real injustice." – Mr Ouk Vandeth, Country Director, Cambodia Bridges to Justice  
Cambodia's criminal justice system and institutions were destroyed in the aftermath of the Khmer Rouge regime and the subsequent civil war. Most of the country's legal workforce was eradicated. While progress has been made, Cambodia still lacks a fully functioning legal and judicial system. The prison system is severely overcrowded at an average occupancy rate of over 300% and around 30% of people in detention are waiting for their appeal. CBJ is the only legal aid organization working to provide support to Cambodians accused of a crime in the Courts of Appeal. 
The Cambodian appeals process is riddled with problems and people are often deprived of due process within a reasonable time. Lengthy delays in access to justice are the result of a large number of cases and low number of judges, prosecutors and lawyers. Poor governance processes exacerbate these challenges. 
CBJ began its Appeals Court project in 2012. It works on a triage basis, targeting high-priority injustices, while addressing broader systemic access to justice challenges. To date, the project has provided legal support to over 650 people on appeal. More broadly the project works to decrease torture, reduce caseloads, and alleviate overcrowding. 
"We work to build trust and strong partnerships with people, the community and justice stakeholders to ensure sustainability and allow the rule of law to really be weaved into the fabric of society."  – Kate Flower, Senior Program Manager
As the best-in-class initiative for Access to Justice, the award is a powerful recognition of the importance of defending people in the most vulnerable places. Please contact Kate Flower, Senior Program Manager at kflower@ibj.org if you would like to know more about the project or our work in Cambodia.
By Carmen Hansen