Burundi
---
IBJ in Action


When IBJ first came to Burundi, there were only 70 lawyers working in the entire country, and there was no form of legal aid for its approximately 9 million people. This is not surprising given that Burundi ranks among the three poorest countries in the world. With the agenda for development straining to meet a myriad of urgent needs, few resources are directed towards fostering the rule of law.
IBJ recognises that local criminal defense attorneys operate on the front lines to end torture. In April 2015, following the unconstitutional announcement of President Nkurunziza as a candidate for a third term in office, Burundi sank once again into serious political instability. This has led to an outbreak of numerous demonstrations in Bujumbura by members of civil society and opposition parties provoking violent clashes with the police force resulting in arbitrary mass arrests. The Burundian Association for the Protection of Human rights and Detained Persons has already identified more than 1,000 people, including women and children, arrested between April 26, 2015 and the end of June, 2015. Ligue Iteka, spoke of more than 2,000 people arrested and detained throughout Burundi. Those arrested are being held in appalling conditions with an occupation of almost 200% percent of total capacity. More than a dozen detainees have alleged torture, especially those who have been detained in the dungeons of the national Intelligence Service.
In wake of the grave situation Burundi, many human rights NGO's  have left the country. IBJ is one of two remaining NGOs  providing legal representation to detainees, especially to those people who took part in protests whom we believe are subject to torture while in detention. IBJ lawyers continue their efforts to date taking  great risks to provide services to these accused persons.
Despite the tense political situation, IBJ managed to register itself as a local NGO under the name, Burundi Bridges to Justice. The creation of this legal entity will enable us to apply for funding that is reserved locally registered NGO's. It is of note that the new Minister of Justice is a person who participated in the first IBJ training session in 2008. We have fervent hopes to build a constructive relationship with the MOJ under her leadership.
---
IBJ Defender Resource Center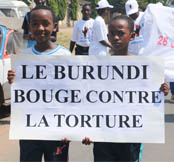 IBJ has established relationships with key justice sector partners.
IBJ mobilises sympathetic defence lawyers to directly represent clients.
IBJ brings together lawyers, prosecutors, magistrates, police officers and prison officials for joint trainings on all aspects of the legal process.
Rights awareness campaigns demonstrate individual legal rights to counsel, to a fair trial, and to be free from torture.
Rights awareness posters are distributed in prisons, police stations, local government offices and other public centers, sparking an overwhelming demand for legal assistance.
IBJ proposes to expand these activities, particularly to support its effort to build grassroots support for the development of a national policy of legal aid for those in need.
Looking Toward the Future
IBJ seeks to maintain the highest professional standards for its team. Over the next two years, IBJ hopes to conduct several in-house sessions to improve staff members' advocacy skills while also building their capacity to deliver effective legal defence trainings locally. Additionally, Burundi staff will participate in IBJ's annual Fellows Summit, where they will benefit from sharing experiences with peers from other IBJ country programs and will improve management and evaluation processes.
---
---
Read Burundi country case stories
Become an IBJ supporter with a donation of any size online
IBJ in Burundi 2009| IBJ in Burundi 2010| IBJ in Burundi 2011-2012| IBJ in Burundi 2013-2014