To help us grow our activities we have created a portfolio of opportunities for collaborative action. There are many ways you can partner with IBJ to help eradicate torture, ensure due process rights for all, and strengthen the rule of law. We welcome your passion, curiosity, energy, financing and ideas, for any of these opportunities.
We would also like to thank our partner network, who help us to achieve our goals and grow each day. Please get in touch with us at internationalbridges@ibj.org
We are also seeking collaborators for over 90 Working Groups in need of assistance. Please review our current highest priorities, so we can make a difference together.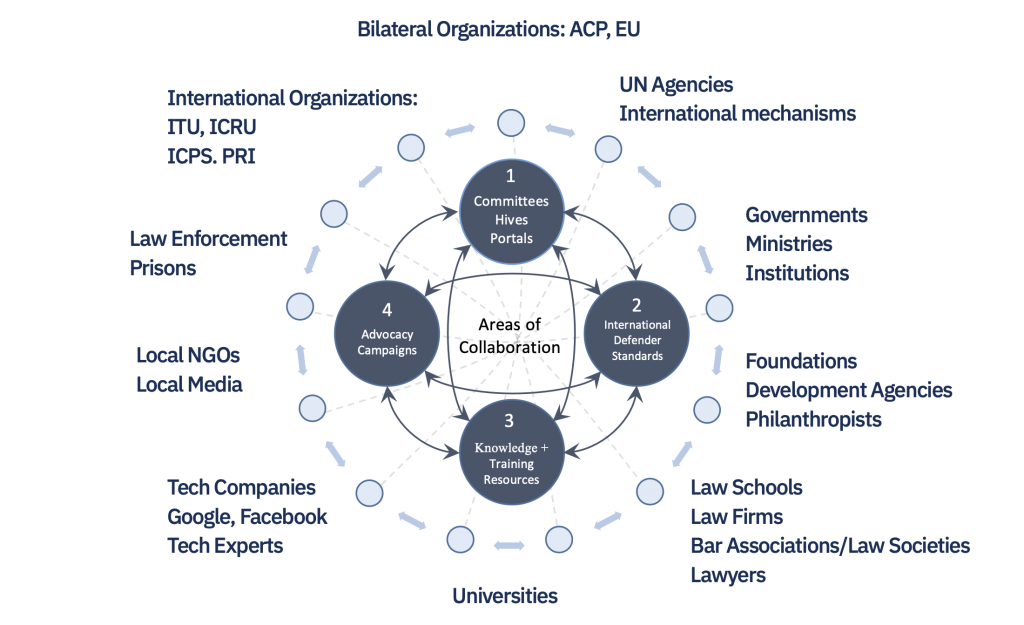 Impact Investment
We have many programs and activities in need of financial support, to scale their impact. Sponsorship, grants and prizes can be arranged across our full portfolio, so let us know your investment priorities and we will let you know what difference your funding will make.
Pro-bono Resourcing
The people in our network make us successful. We have many ways to assign legal firm staff or volunteer – in our headquarters office in Geneva, virtually from partner offices, as well as within country programs. There is so much more we could do with your participation.
Internship
Pro-bono Legal
In-Kind Contribution
Defenders
Representation
At the core of IBJ's work is the representation of the vulnerable accused. Helping them requires better data, tools, prisoner tracking and movement building. If you can provide the funding, skills or tools that help us increase our effectiveness, please get in touch.
Competition
Prisoner tracking
Case management
JusticeMaker Fellows
Legal Aid
Awareness Campaign
Defender Capability
To ensure our defender network is well equiped we develop a range of tools and courses for case evaluation, individual skills evaluation, eLearning education modules, and toolkits. We require help to create this essential material from law students, professors, experienced criminal defense practitioners and other interested professionals.
Checklists
Country Scorecards
Defender Manuals
Defender Scorecards
DefenseWiki Pages
eLearning Modules and certification
Mentoring
Toolkits
Training Live Video, PPTs, and Webinars
Convening
Changing minds and building community requires effective ways to bring people together. With positive outcomes we have use the following types of meetings across the world and online. The time, effort and funding to coordinate and facilitate them would benefit from your involvement.
Access to Justice Talks
Community of Conscience Program
Interfaith Gathering
Partnerships
Roundtables
Youth Convening
Contact us at internationalbridges@ibj.org for more information.