International Bridges to Justice seeks to build a community of the best and brightest agents in the field of legal reform. It is a worldwide community, always pressing to expand its horizon. IBJ is looking to fund innovative projects that bring change to your local criminal justice system. Winners receive $5,000 fellowships to implement their projects. Additionally, JusticeMakers Fellows enjoy IBJ's resources that prepare them to be future project leaders.
IBJ is pleased to announce the launch of the 2017 JusticeMakers Prevention of Torture Competition in Francophonie Africa. With the support of Global Affairs Canada, IBJ is reaching out to lawyers, human rights defenders, justice and law enforcement officials for innovative proposals and  strategies to promote criminal justice in Francophonie Africa. Applicants are asked to submit a detailed proposal of their idea. The most innovative and sustainable projects will receive a $5,000 Fellowship.

Applications for the 2017 JusticeMakers Competition are now closed.
IBJ is happy to announce its panel of judges for the 2017 Competition. The panel includes renowned legal and human rights experts including Karen Tse, Founder and CEO of IBJ, Ahmed Bouhoubeyni, Honorary President of the Conférence internationale des Barreaux , Nathalie Nansha, President of the Equitas DRC Network, Philippe Currat, General Secretary of the International Criminal Bar, Isidore Rufyikiri, Former President of the Burundi Bar Association, and Elie Elkaim, President of the Commission for Human Rights of the Bar Association of the Canton of Vaud.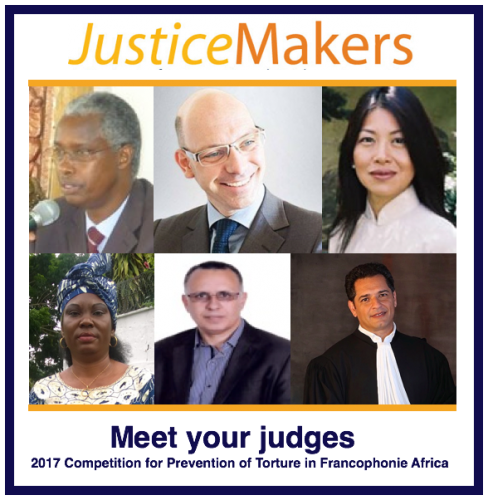 The 2015 IBJ ASEAN JusticeMakers Competition Winners Are:

JusticeMakers Online
JusticeMakers is an online community that connects passionate members of the criminal defense community, facilitates discussions, and hosts competitions to fund innovative proposals that seek to curb torture and legal abuse. As a project of International Bridges to Justice, JusticeMakers seeks to unleash the collective energies of criminal defenders from around the world and realize the vast potential of international human rights legislation.  The online effort is supported by a partnership structure that brings the website's tools and wealth of knowledge to those living beyond the digital divide.
If you have any further questions, please email justicemakers@ibj.org.
Our Model
IBJ is ideally positioned to run a program like JusticeMakers because of the way the online community complements IBJ's existing portfolio of criminal defense initiatives. Through the online community, discussions about criminal justice, JusticeMakers competitions, and online eLearning training curricula, JusticeMakers allows IBJ to reach more people with its message and programming.
JusticeMakers enables the cross-fertilization of participants' ideas with those of IBJ's program staff.
It provides a testing ground for criminal defense initiatives before they are brought to scale through IBJ's in-country programming.
JusticeMakers serves to map initiatives within the criminal defense sector, pinpointing those areas where IBJ could be adding value.
Finally, JusticeMakers helps source potential recruits for future country programs as IBJ takes its model to scale.
Meet the JusticeMakers Fellows
International Bridges to Justice is delighted to present all of its prestigious JusticeMakers Fellows that are the result of our six global and regional contests. Read how past JusticeMakers winners have made a difference with the most vulnerable in their communities. In addition, read their own stories of inspiration to learn what motivates them to do their courageous work everyday under some of the most difficult circumstances.