Rwanda
---
Country Background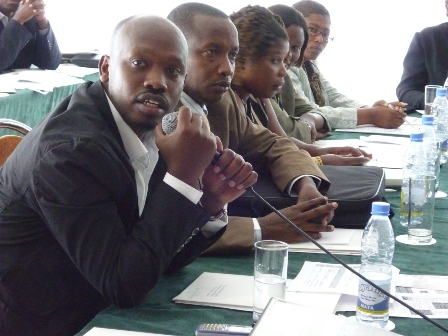 The Government of Rwanda (GoR) has in recent years taken significant strides and made visible efforts towards legal reforms on the country's laws. It has demonstrated a commitment to legal rights by signing international conventions and adopting domestic laws that safeguard the rights of the accused.
Unfortunately, there is a delay in enforcing some of the new laws. While the government under the current leadership is making gradual progress in its attempt to build the judicial and prosecutorial infrastructure necessary to process criminal cases, an essential element of a functioning justice system has been overlooked: worthwhile protection of the rights of the accused by a competent defense lawyer. Development of the defender-side of the criminal justice system has been relegated to a low priority, and a gap remains in the legal system's capacity to adequately protect the basic rights of every individual subjected to the criminal process. Without a skilled lawyer to effectively advocate on their behalf, accused persons often undergo lengthy pre-trial detention and are vulnerable to all sorts of abuses, including inhuman treatment to extract confession.
The efforts of the Bar Association, as well as a consortium of NGOs, have thus far proven insufficient to extend representation to every indigent person requiring criminal legal assistance in Rwanda. In 2014, a report from the Legal Aid Forum estimated that over 80% of defendants in criminal trials do not receive representation or legal advice of any kind. Therefore, IBJ is striving to provide legal assistance for those ordinary Rwandan citizens, thus ensuring protection of their basic legal rights.
---
What we do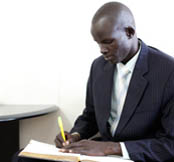 Since the IBJ Rwanda Country Program was established in 2010, its mission has been to fill gaps in criminal legal aid. Through the Defender Resource Center (DRC) in Kigali, IBJ provides the support necessary to motivate criminal defense lawyers, drives the movement to guarantee competent legal representation to the most vulnerable Rwandan defendants, including women, children, and the indigent, and builds a supportive community of legal professionals in the country. Additionally, through access to justice roundtables and public rights awareness campaigns, IBJ promotes popular and institutional support for comprehensive legal reform. Roundtables bring together justice sector stakeholders to develop practical solutions to address access to justice issues, while also breaking down barriers, building respect, and promoting collegial relationships. Rights awareness campaigns raise consciousness and empower citizens to utilize their legal rights. We work to create a culture in which both political leaders and ordinary citizens understand and support basic due process rights.
---
IBJ Country Facts
Program established in 2010.
Defender Resource Center operating in Kigali.
Over 142 lawyers trained in criminal defense.
Over 847 cases handled by IBJ lawyers as of January 2016.
72 roundtables organized.
Over 200 justice officials attending IBJ trainings and roundtables.
Two radio rights awareness campaigns conducted, reaching over 200,000 individuals
Over 500,000 individuals made aware of their legal rights
---
Future challenges
Consolidate the Kigali Defender Resource Center and establish new Defender Resource Centers to meet the country's needs.
Continue capacity building and training for criminal defense lawyers.
Expand pro-bono criminal representation to all indigent and vulnerable people in need of a lawyer's assistance
Expand efforts to raise legal rights awareness among Rwandan citizens.
---
Read Rwanda country case stories
Become an IBJ supporter with a donation of any size online
IBJ in Rwanda 2009| IBJ in Rwanda 2010| IBJ in Rwanda 2011-2012| IBJ in Rwanda 2013-2014