Last week, IBJ documentary journalist Danny Thiemann and I had the chance to visit two prisons in Divinopolis, Brazil, where IBJ Fellow Aziz Saliba is working on a legal justice awareness campaign. The first, Presídio Floramar, is an adult prison designed for 250 inmates, though it currently holds approximately 500. The second, Centro Socio-educativo, is a youth reeducation center that accommodates less than 50 people. Both are considered to be among the better prisons currently operating in the country.
Dr. Saliba is hoping to send his educational DVDs on the right to habeas corpus to the same prisons and the communities from where the inmates come from.
Captions written by Danny Thiemann and Michelle Ferng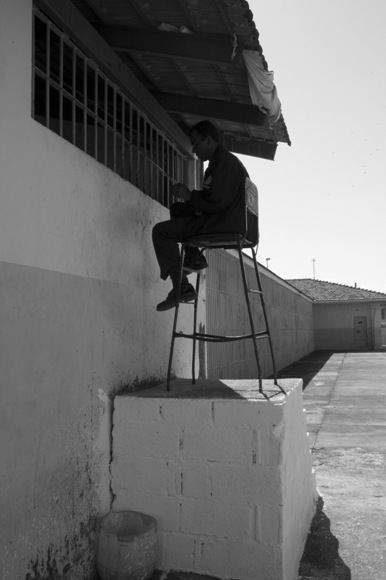 Guards are posted outside a workroom at Presídio Floramar where prisoners sew uniforms for inmates across Brazil. Half the wages they earn are pocketed and the other half go towards maintaining the prison.

On the other side of the bars, prisoners work together in a common room.

A defense lawyer meets with her client. Many of inmates in Brazil are unlawfully detained yet unaware of their rights to habeas corpus, a legal action deterring the illegal imprisonment of themselves or another person.

Upon arrival at Presídio Floramar in Divinópolis Brazil prisoners are given a standard set of clothes and personal items. Individuality is far from encouraged in the adult prison, in contrast to the prison system for adolescents, where inmates between 12-18 are allowed to wear their own clothes.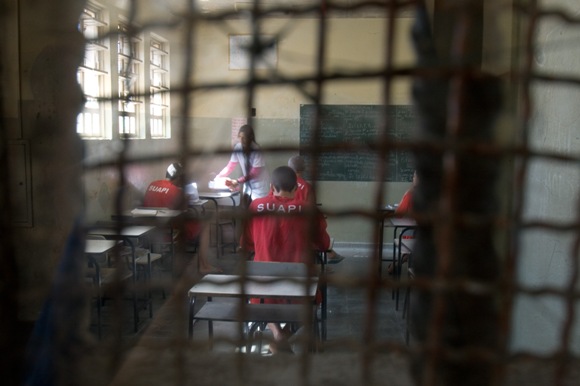 A small team of professionals designs educational courses for math, reading and writing at Floramar Prison. As the picture shows classes have spotty attendance and most educational materials are re-used donated materials.

Prisoners are given time during the day to sunbathe in a courtyard at Floramar Prison in Divinópolis, Brasil. After being counted, they are allowed to move freely about the courtyard. Some chant, sing to themselves or talk with the guards, but they are on the whole much quieter than the inmates at the adolescent jail next door.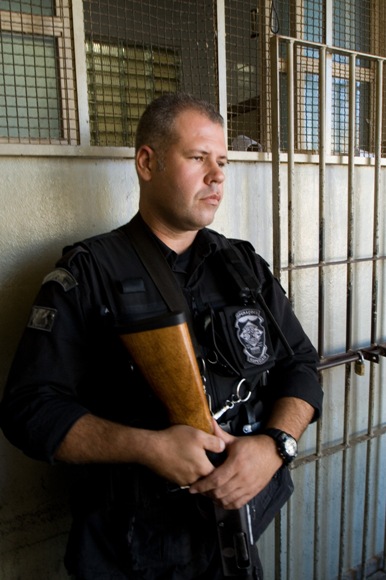 A man guards the Director of Security as he gives the IBJ team a tour of Floramar Prison in Divinópolis Brazil.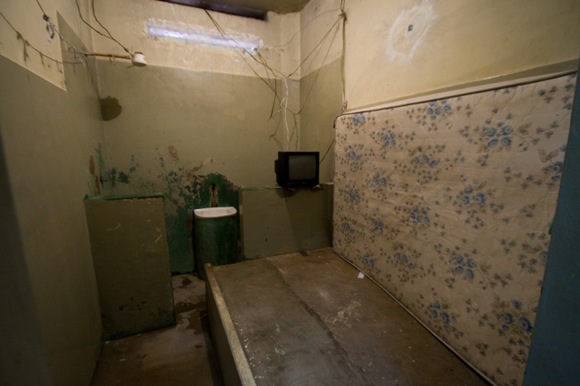 Prisoners are allowed an conjugal visit from a legally registered wife or husband every fifteen days.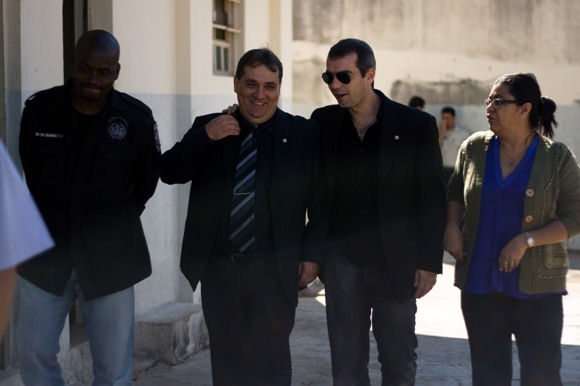 From left to right: Director of Security Cabo Eduardo, Prosecutor Alessandro Garcia Silva, Prosecutor Carlos José e Silva Fortes, and Ms. Vanda, a lawyer who was meeting with clients at Floramar. The team gave IBJ journalists a tour of Floramar Prison.

A woman stands guard at Floramar Prison in Divinópolis, Brazil that holds both male and female inmates and employs both male and female guards throughout the prison.

Prisoners hang their laundry at Presídio Floramar in Divinópolis.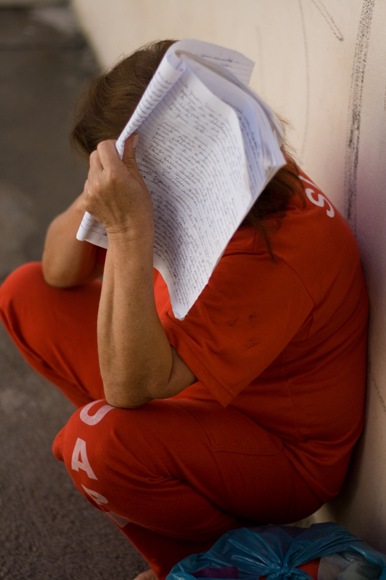 A woman at Floramar Prison in Divinópolis, Brazil receives some time alone in the same courtyard pictured above.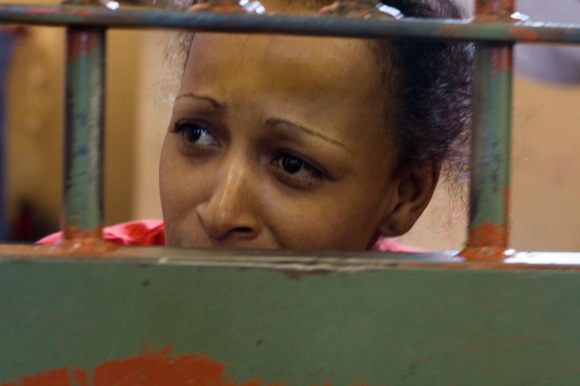 A woman looks out of her cell in Floramar Prison located in Divinópolis, Brazil. 27 female inmates are included amongst 373 male prisoners in a facility that is twice over capacity.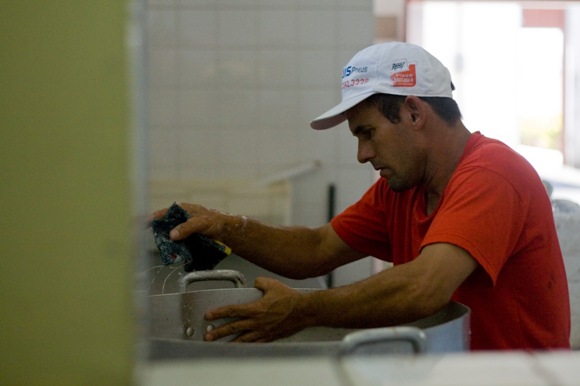 An inmate washes dishes in the kitchen at Floramar Prison. Administrative staff, guards, and prisoners all eat the same meal, which is prepared daily.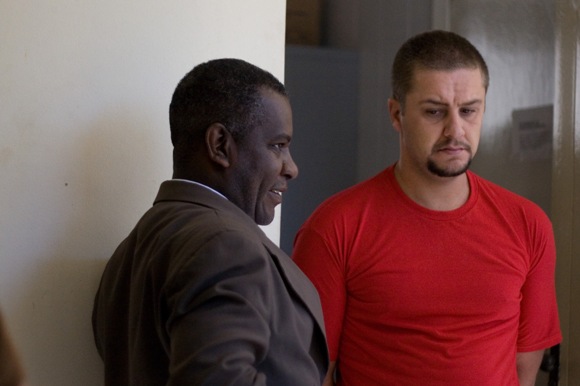 Racial stereotypes and racial profiling have long been issues challenging the penal systems in Brazil. In this photo a handcuffed inmate consults with his lawyer beside Floramar's open courtyard — a rare exception, noted Dr. Saliba's assistant, Cecilia Neves Silveira, to the race relations observed in most prisons.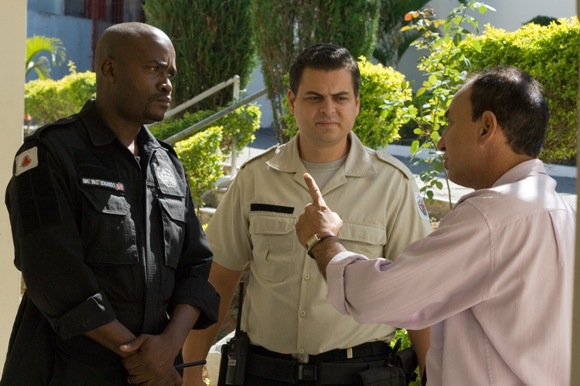 General Director (right) and the Director of Security (left) at Floramar Prison, accompanied by a guard, consult in the main courtyard.



Meanwhile, across the street at the adolescent prison, a woman watches the cameras in the facility. Here, the staff is keen to reduce the presence of guards and relies more on recorded video for supervision.

A basketball court also serves as a soccer field for inmates. Administrative staff note that every time a soccer ball is shot over the prison walls, the inmates immediately go to work repairing it once the ball is retrieved because the state does not have enough resources to send new recreational materials.

An art room at Centro Socio-educativo displays inmates' artwork, showing a range of subjects and inspirations.

A security guard tours the cells. Guards at this youth detention center do not use guns and are restricted in their ability to use physical force when enforcing compliance.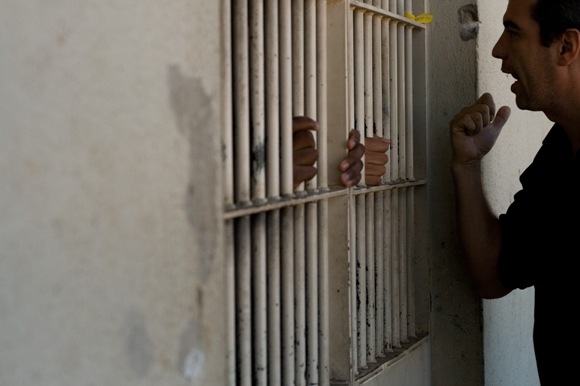 Prosecutor Carlos José e Silva Fortes extends his hand to reassure a young client at Centro Socio-educativo.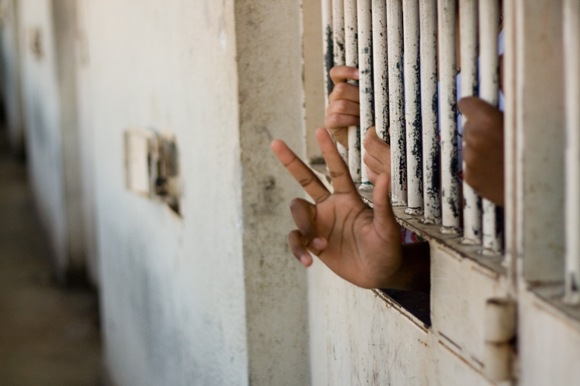 Imprisonment does not dampen the youthful spirits of inmates, as one young man reaches out spontaneously to pose for the camera.