IBJ is delighted to announce that Herman Ndayishimiye, a defense attorney with over fifteen years of practical legal experience, has just been recruited as IBJ Burundi Legal Fellow. Herman first started his legal career as a Prosecutor, working at the Tribunal de Grande Instance (for mid and high level crimes) of Bujumbura Rural, Muyinga and Bujumbura rural. Throughout his career as a prosecutor, he has faced many accused who were left unrepresented because unable to afford the services of a lawyer. One day, he realized that the right to legal representation is THE fundamental right which enables, if upheld, to practically exercise and enjoy one's other rights, the right not to be tortured first.
He decided to join the Burundi Bar Association in 1999. Since then, he has multiplied significant experiences in the field of criminal justice – his main area of expertise – for a variety of organizations, whether with grassroots NGOs (our partner organization APRODH); international organizations (BINUB), or governmental bodies (Ministry of Human Rights). He has actively researched, debated and proposed concrete solutions about access to legal aid, torture prevention and ways to guarantee that criminal procedures are upheld. One of his most formative experiences was when he worked as a legal aid lawyer for the UN Office of the High Commissioner for Human Rights, where he represented accused persons in the Court of Appeal.
Herman's many years of experience, in combination with his participation in both of IBJ's Burundi criminal defense trainings, ensure that the defendants he represents will be provided with effective, efficient and committed counsel.
Herman will be responsible for organizing and leading a core group of volunteer lawyers. Not only will this group provide, in accordance with the agreement with the Bar Association, additional legal counsel to those who desperately need it, but they will also work towards institutionalizing a vibrant, sustainable and organic criminal defense community in Burundi.
Finally, he will be responsible for developing a Burundi-specific criminal defense training curriculum, including elements of the adversarial system, with the support of other criminal justice experts. As Burundi has recently joined the East Africa Law Society, an organization promoting the practice of adversarial law, it is essential that Burundian lawyers be able to access the legal resources and training materials required to keep abreast of these innovations.
Herman holds a Bachelor of Law from Burundi University and a Master degree in Human Rights and Pacific Resolution of Conflicts from the UNESCO Chair, in partnership with the Burundi, Brussels and Namur Universities.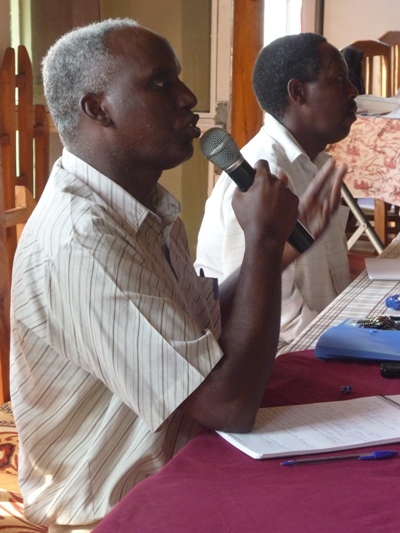 Above: Herman advocating for early access to counsel at Burundi 2009 training. (Photo by Sanjeewa Liyanage)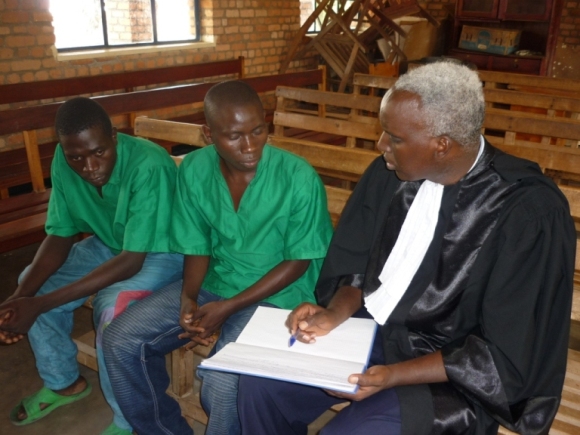 Above: Herman preparing a case with his clients in Bubanza, Burundi (Photo by Claire Habimana)