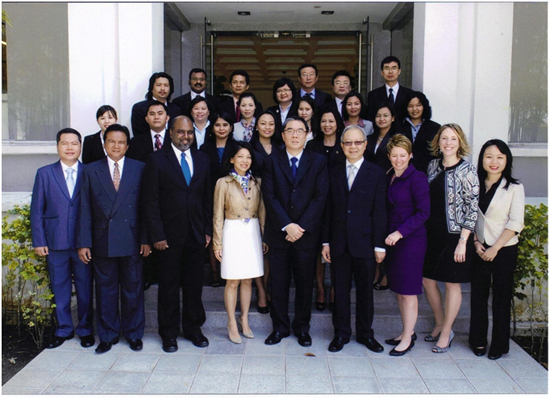 International Bridges to Justice and the Ministry of Foreign Affairs Singapore merged expertise with innovation to create the first-ever Criminal Justice Training for ASEAN countries in Singapore, 14-18 Feb 2011.  Hosted at the beautiful campus of the prestigious Lee Kuan Yew School of Public Policy at National University of Singapore, this inaugural event gathered 18 participants  from Cambodia, Indonesia, Laos, Malaysia, Philippines, Singapore, Thailand, and Vietnam.  The attendees arrived ready to learn from each other and international experts the current state of criminal justice in ASEAN at large, and within their respective nations.
As part of the interactive training methodology, participants were asked to give brief presentations highlighting current laws in their own countries that uphold the rights of the accused, specifically early access to defense counsel.  Experts from Singapore, Asia, and America introduced new methods of reviewing and analyzing evidence from a criminal case to provide the greatest access to accurate information.  Advocacy and negotiation skills complemented the leadership development and criminal justice review.
IBJ expresses its gratitude to the Ministry of Foreign Affairs Singapore, the Lee Kuan Yew School of Public Policy, the Law Society of Singapore, and Ambassador Ong Keng Yong for their support.   IBJ also express its thanks to trainers from Drew & Napier, Infinitus Law, Rodyk & Davidson, NUS Law, Bird & Bird, and Eldan Law for their expertise.  This event would not have been possible without financial backing from Allen & Overy, Clifford Chance, and Rajah & Tann.  We look forward to working with all our partners, sponsors and trainers in future collaborations.
List of Attendees: MFA-IBJ  Training Feb 2011
| | | | | |
| --- | --- | --- | --- | --- |
| Surname | First Name | Sex | Title | Country |
| HOANG | Thi Thuy Hoa | F | Vice-head of International Programs Division | Vietnam |
| TAN | Josephus Joon Liang | M | Legal Associate | Singapore |
| LIM | Pei Ling June | F | Legal Associate | Singapore |
| YEO | Nadia | F | Legal Associate | Singapore |
| RODRIGUEZ | Josyli Tabajonda | F | Prosecution Attorney | Philippines |
| ZAPANTA | Lourdes Ramirez | F | City Prosecutor | Philippines |
| DECENDA-VALDEZ | Hazel Canet | F | Assistant State Prosecutor | Philippines |
| INTHAPHONH | Lattana (Aith) | F | Deputy Director, MOJ | Laos |
| VANSILALOM | Vilaxon | M | Legal Staff, MOJ | Laos |
| SEANG | Hun | F | Bureau Chief of Honourable Decoration | Cambodia |
| SAROEUN | Sopor | F | Chief Personnel Officer, MOJ | Cambodia |
| LIM | Sophary | F | Officer, MOJ | Cambodia |
| ARUNASALAM | Komathi Aip | F | Lawyer | Malaysia |
| YOUNG | Yvonne Ai Peng | F | Lawyer- Advocate | Malaysia |
| Yathiraju | Anbananthan | M | Lawyer – Criminal Defense | Malaysia |
| AMIN | Rusdi | M | Prosecutor | Indonesia |
| SUKRISTYAWAN | Fajar | M | Head of Prosecution Office- North Jakarta | Indonesia |
| EKRONI | Dado Achmad | M | Prosecutor | Indonesia |
| POONSUKCHAROEN | Poonsuk | F | Legal Officer, Human Rights Lawyers' Assoc. | Thailand |
| TIAN | Wenchang | M | IBJ China Staff | China |
| ZHANG | Guowei | M | IBJ China Staff | China |
| CHEN | Dong | M | IBJ China Staff | China |