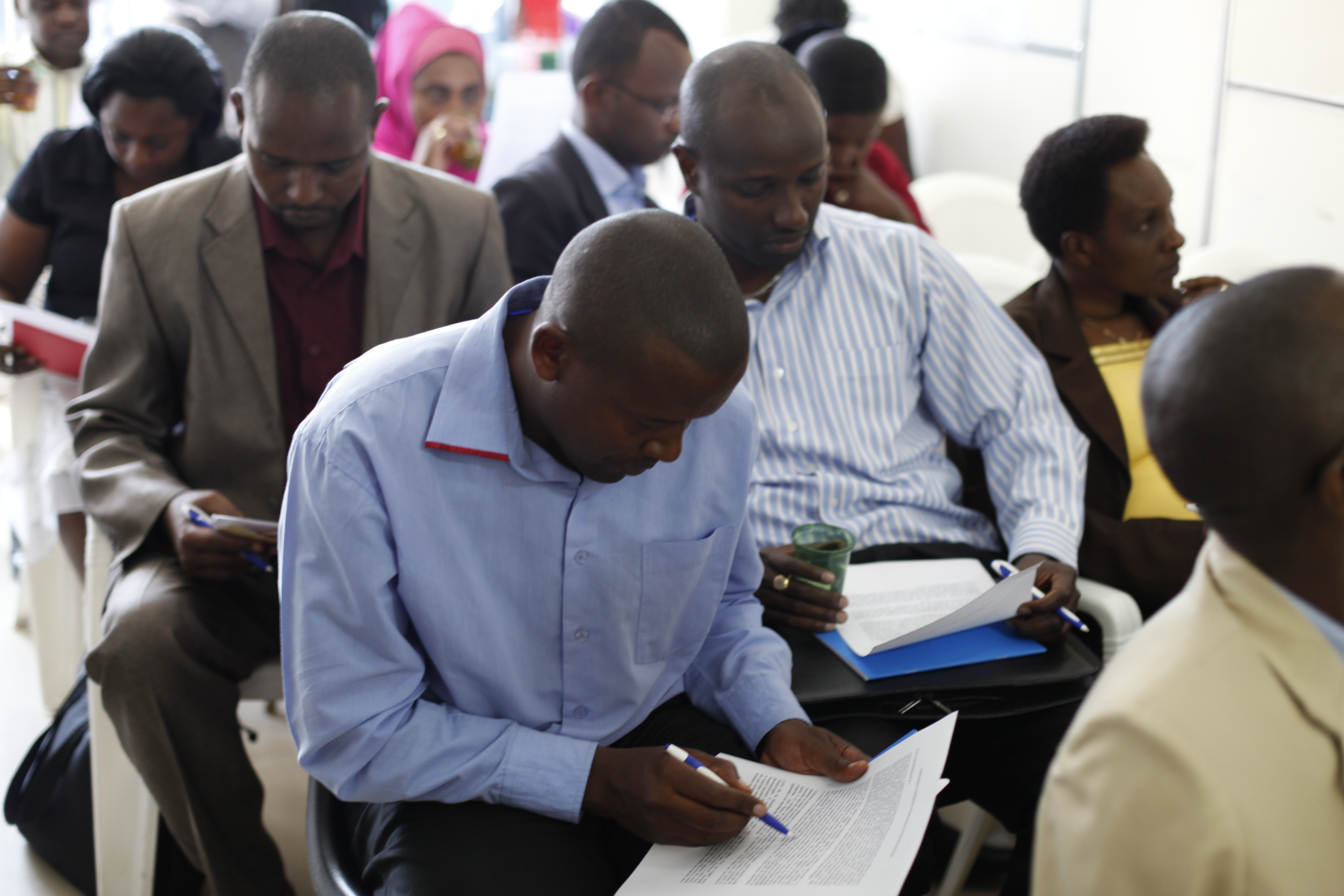 It was quite hot in Kigali on July 20th 2011. Despite the heat, 30 defense lawyers gathered at IBJ's Rwanda office for a skills building training workshop to strengthen their ability to advocate for the rights of their clients. Kellie Krake, IBJ's Training Director and an American lawyer with years of criminal defense experience, and John Busco Bugingo, the head of IBJ Rwanda, were at the helm of this intense training workshop.
Participants were very eager to share their values, stories, and to learn. Ideas and answers to questions came from all sides. The workshop focused on cross-examination techniques where lawyers analyzed a fact scenario to identify what to ask clients to get the most information out of them. Lawyers were also trained on how to build the theme and theory of the case. A presentation on early access to counsel and international standards followed. After the morning session, participants received a certificate of attendance identifying the skills they had just learned.
The second half of the daywas dedicated to training the trainers. The purpose of a Train the Trainers program is to get more experienced lawyers to be able to pass their skills onto others. Participants learned how to conduct a good and competent training session, and learned how to focus their efforts. They were also provided with materials to facilitate this task. Under IBJ's current program, over 180 Rwandan lawyers have been trained in the last three years. In order to capitalize on this success, IBJ is now deploying the more skilled criminal defense lawyers to train others and thus multiply their impact.
The workshop was also a valuable networking opportunity for participants, who were given the opportunity to get involved as IBJ volunteer lawyers.
All images courtesy Krzysztof Racoń and Michal Wojtysiak, copyright 2011.