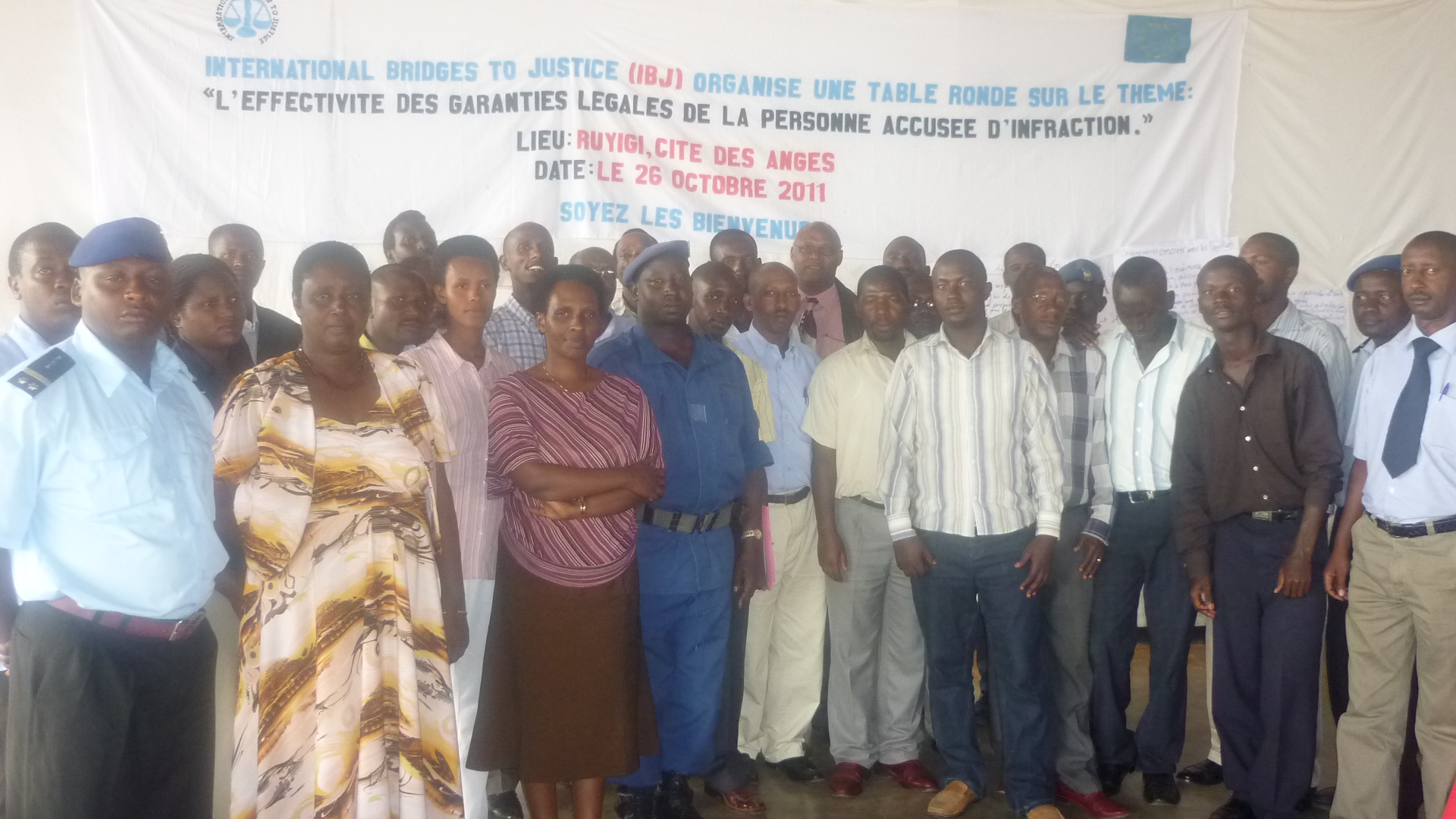 On the 26th of October, a number of key criminal justice stakeholders such a
s lawyers, judges and police officers participated in an IBJ roundtable arranged in Ruyigi, in the east of Burundi. R
epresentatives of civil society, journalists, and institutional directors were also present. All had gathered to discuss and take part in lectures around the theme of "the effectiveness of legal guarantees for persons accused of crime".
The topic of legal guarantees for detained persons is highly relevant in Burundi. There are several articles in the Code of Criminal Procedure that offer legal guarantees to accused persons. Basic and essential rights such as the right to know the reason for an arrest at the time of arrest and the right to have legal assistance at all stages of the criminal process are mandated by law. Unfortunately, accused people's rights are rarely honored in practice. As roundtable participants discussed, this is due to a lack of lawyers to defend the rights of the accused, as well as a lack of awareness of these rights among the criminal justice actors who are responsible for carrying out these laws on a daily basis, such as police.
IBJ Legal Fellow Maître Janvier Ncamatwi stated that a standard of law only becomes effective when it is legal and legitimate. He also added that the effectiveness of legal guarantees of charged persons can only come from the actors who are dealing with these matters on a day-to-day basis. That is why it is so important to have the different kinds of stakeholders in the justice system come together to discuss these matters and get new ideas and refreshed energy to work for change. Indeed, productive discussions ensued. The president of the Gitega Bar Association, Rafhael Gahungu, urged that detainees should be treated with humanity. He stressed that everyone should be able to agree that it is preferable that an accused persons be discharged rather than detained; in other words, the notion of a presumption of innocence should guide the treatment of an accused before anything has been proven.
Although there still is need for many improvements in the Burundian justice system, what is uplifting is that the participants were engaged in working for a better tomorrow. The strategies for change they presented were, among other, sensitizing all different actors involved in the juridical processes, informing citizens about legal principles, and maintaining police officers' awareness through training sessions. The group discussed the fact that, at times, prosecutors want accused persons to be held in jail with the argument being that this is necessary to ensure their security. One prison officer showed his discontent with this practice by saying that the prison is not like an embassy, meaning that detaining someone in prison is no way to secure a person from harm.
At the end of the program, participants were encouraged to commit themselves to making concrete changes, to take responsibility for achieving the progress they all could agree was needed. They committed to, among other things, being more persistent in their opposition to interference by authorities within the judiciary, processing cases without delay, and informing prisoners on their rights and duties. During the event, the participants confirmed that the roundtable process was very productive, as they suggested similar happenings be held for professionals not only in the justice system but also other sectors of Burundian society. Participants left the roundtable better equipped and more motivated than before to devote themselves to working towards a brighter future for accused persons in Burundi.