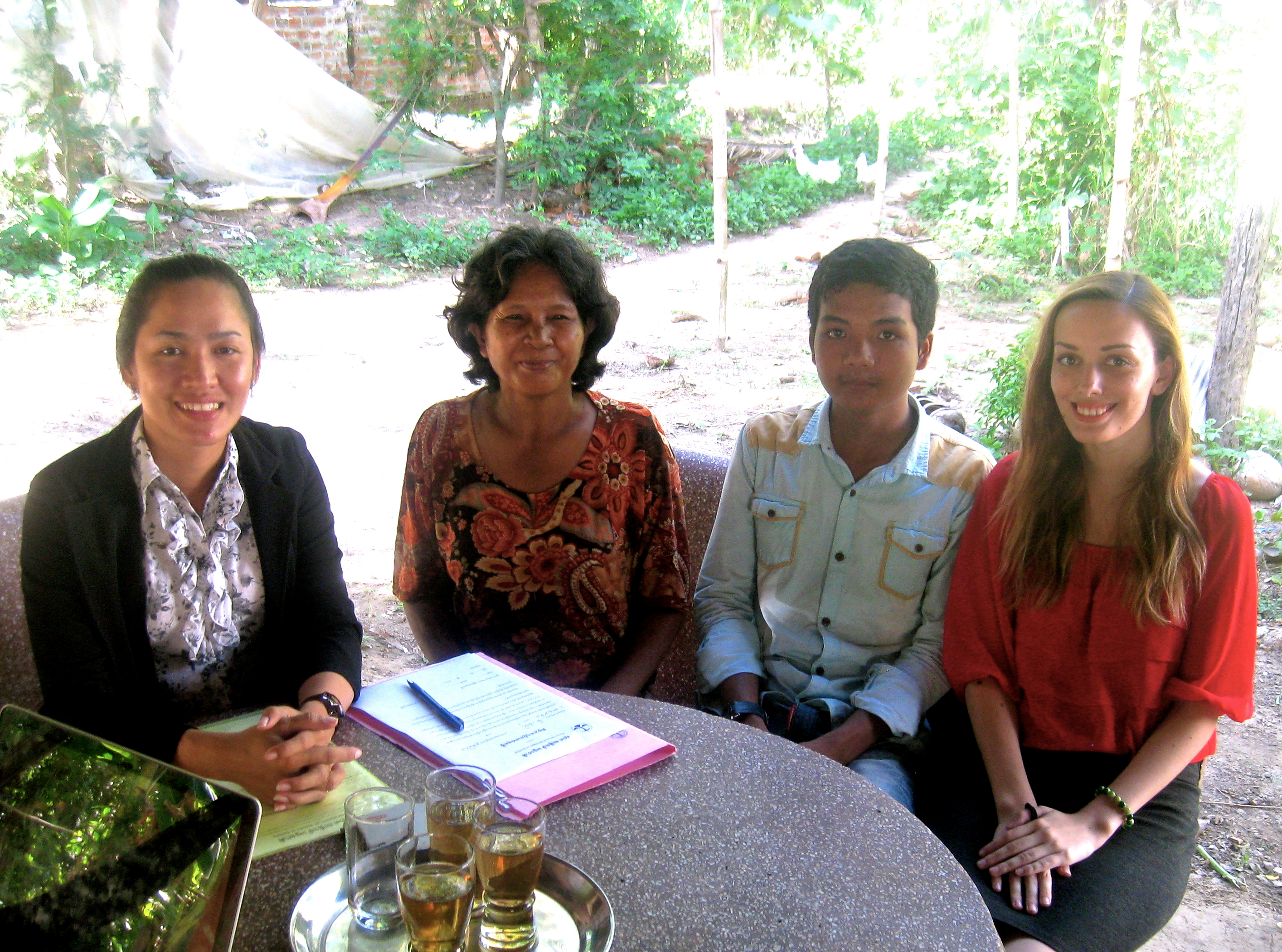 Erika Larsen
June 2014
I have only been interning in IBJ Cambodia's Battambang office for a few weeks, but I have already seen just how important the work they do is to those accused of crimes here in Battambang Province. Sopheak's* acquittal provides a clear example of the impact of IBJ's success.
A few months ago, Sopheak, his girlfriend, and another couple (who were classmates of his) were enjoying the typical night out as teenagers. They had gone out to eat, and were hanging out around town. At the end of the night, Sopheak and his friends returned home to spend the night at his house, but they realized there were too many people and it was too loud to sleep, so they booked two rooms at a local guesthouse. Sopheak and his girlfriend slept in one room, while the other couple slept in a separate room. However, one of the teens staying in the other room was a 14-year-old girl, and her parents became very upset upon learning that their daughter had spent the night out. Although the girl was in a separate room from Sopheak and had slept over Sopheak's house prior to this incident, her parents subsequently filed a complaint with the police and Sopheak found himself in a completely unanticipated position.
Sopheak, a 17 year-old boy who had spent the night in a guesthouse room with his girlfriend, had been accused of rape by the 14 year-old girl's parents, despite the fact that he and his girlfriend had stayed in a different room and he had had no physical contact with the young girl.
Luckily, Sopheak was quickly referred to International Bridges to Justice by two separate sources: a woman who worked at the Battambang court, and a neighborhood friend who had attended one of IBJ's Community Legal Awareness sessions in their commune. Clearly, as this case demonstrates, IBJ's outreach to the Battambang court and community is making an impact and helping those accused of crimes gain legal counsel. Because these sources put Sopheak in contact with IBJ early in the process, IBJ's lawyers were able to help Sopheak through every step, starting with procedure and investigation and continuing through trial. However, while awaiting trial, Sopheak was forced to stay in a four by four meter cell with twenty other minors for the three to four months that he was in detention awaiting his trial. Under these extreme conditions, Sopheak found sleeping very difficult, and says that there was not enough food for him to eat. While his family was able to visit him, they could only make around two trips each month.
Sopheak's lawyer communicated the true account of what happened that night to the judge, which was corroborated by the young girl herself, and successfully refuted the allegations made by the young girl's parents. Found innocent, Sopheak was acquitted of the false crime he was charged with and could put the past few months behind him. Without this help, Sopheak may have received an unfair trial and believes he would have had to "stay [in prison for a] long time". Upon his release on May 20th of this year, after three to four months in detention, Sopheak says he was "feeling great" and "very happy" to return to his commune. Although he had to suspend his schooling while he was imprisoned, he has now restarted school and is in Grade 9. Justice was served for Sopheak!
*Name has been changed.