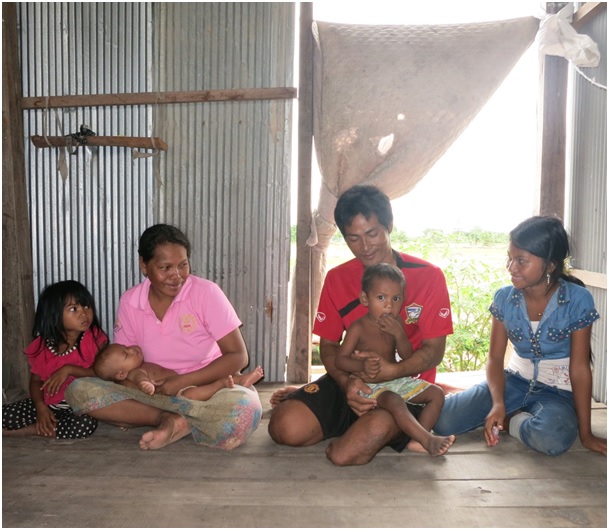 11 June 2014
Jeanne Salomé
Mr. Pagna(1) lives in a small village, 30 minutes away from Banteay Meanchey city in the north-west corner of Cambodia. His house made of metal sheets stands close to rice fields and small water streams. A father-of-5, he and his wife already had difficulties supporting their family and their daily living. A while ago, Pagna walked on a mine and lost his ability to perform all kinds of work. He mainly relies on fishing and other small jobs to make a living. The land he occupies with his family was lent to them by an owner, understanding their dire situation. But ultimately, they need to pay him back. In these difficult circumstances, Pagna's wife suggested him last February to go up the stream close to their house and try to catch some fish there. Pagna went and used electronic equipment to provoke an electric shock and get more fish. He knew that such fishing methods were forbidden, but he was ready to take the risk and get a chance to bring back a little bit more money for his family. However, one day, as he was sailing up the stream to go back home, he saw the police waiting for him, probably alerted by some people in the neighborhood.
The police officers arrested Pagna and seized his fishing equipment, boat and motorbike to use them as evidence in the case. One day after his arrest, Pagna was taken to the court and then to the prison to wait for his trial. The court officers informed IBJ about his case. Nop Kunthol, the IBJ lawyer in Banteay Meanchey province, met with Pagna in prison. Considering the circumstances of the case and her client's personal situation, Nop Kunthol applied for bail. The first bail application was not successful due to administrative issues within the court. The judge agreed on the first bail application but did not properly fill in the document to transfer to the prosecutor. The latter, noticing the missing parts in the document, did not process the release on bail to avoid mistakes in procedure. Quickly, Nop Kunthol filled a second bail request which was successful.
In total, Pagna spent 4 months in pretrial detention. Those 4 months were very difficult for him. He was really worried about his family, especially given the fact that his wife was about to deliver their fifth child. His wife tried to find support from other organizations. When she heard about IBJ, she was skeptical about whether or not the lawyer's services were free of charge. Now she trusts IBJ and spreads the word about the organization. Unfortunately, to date, Pagna has not been able to resume his work, as the court seized his equipment and his vehicle and did not allow him to get new ones. He will try to find a solution to earn some money. He and the IBJ lawyer are now waiting for the trial date, and will do their best to come up with a solid defense strategy and prevent him being sentenced to imprisonment and being away from his family again.