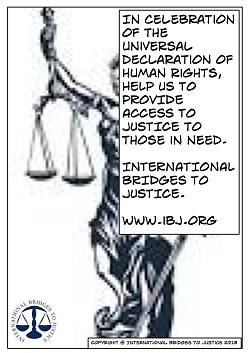 Standing Together for Equality, Justice and Human Dignity
Every year on 10 December Human Rights Day is observed: The day the United Nations General Assembly adopted, in 1948, the Universal Declaration of Human Rights (UDHR).
This year, Human Rights Day marks the 70th anniversary of the Universal Declaration of Human Rights, a milestone document proclaiming inalienable rights which everyone is inherently entitled to as a human being regardless of race, color, religion, sex, language, political or other opinion, national or social origin, property, birth or other status.
It is the most translated document in the world, available in more than 500 languages and was drafted by representatives of diverse legal and cultural backgrounds from all regions of the world. The Declaration sets out universal values and a common standard of achievement for all peoples and all nations. It establishes the equal dignity and worth of every person. Thanks to the Declaration, and States' commitments to its principles, the dignity of millions has been uplifted and the foundation for a more just world has been laid.
IBJ Fighting for Due Process Rights for All Citizens
In recognition of the fundamental principles of the UDHR International Bridges to Justice (IBJ) is dedicated to protecting the basic legal rights of ordinary citizens in developing countries. IBJ specifically works to guarantee all citizens due process rights:
The right to competent legal representation, the right to be protected from torture, cruel and unusual punishment as well as the right to a fair trial.
While the full promise of the UDHR is yet to be realized, the very fact that it has stood the test of time is testament to the enduring universality of its perennial values of equality, justice and human dignity. IBJ continues to its work with defense lawyers, state institutions, legal aid organizations, community-based organizations, and other interested stakeholders to fulfil its mission. In effecting sustainable criminal justice transformation IBJ focuses on four main themes: Defender capacity building, institutional capacity strengthening, legal representation to accused persons, including victims of torture, and awareness.  IBJ's approach – taking action by defending the rights of every woman, man and child – promotes the essence of the UDHR: Kinship of all human beings.
The principles enshrined in the Declaration are as relevant today as they were in 1948 and the UDHR empowers us all.  As a global movement of justice-makers IBJ will continue its work to end investigative torture in the 21st century and strengthen the rule of law across the world.