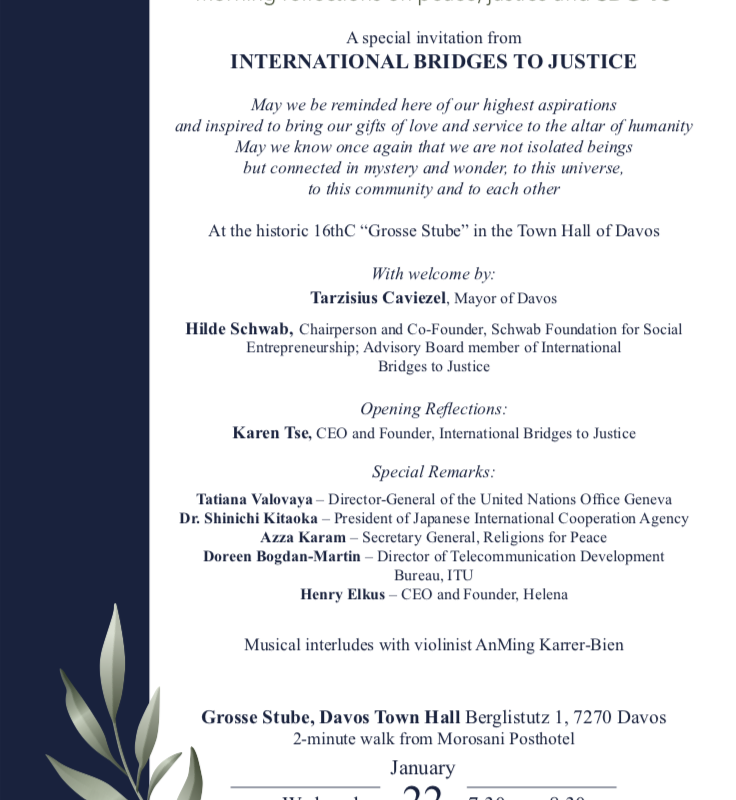 Davos, Switzerland – As industry, government, and faith leaders prepare to meet once again at the World Economic Forum in Davos, International Bridges to Justice (IBJ) calls for a focus on the UN's Sustainable Development Goal (SDG) 16: realizing peace, justice, and strong institutions for all.
IBJ's event, Building Hope for the Future: Morning reflections on peace, justice and SDG 16 is a call to engagement in the platform for global justice. IBJ invites some of the worlds' most influential leaders from the public and private sectors to inspire a collaborative approach to generate resources and strengthen judicial capacity and awareness over the next decade. The message on the invitation is clear: 'May we be reminded here of our highest aspirations and inspired to bring our gifts of love and service to the alter of humanity'.
The event will address key questions: why is the rule of law, economics and development policy so important to building basic legal infrastructure and supporting justice? Why is soft governance so important in ensuring access to justice for all? How do we build lasting relationships between the public and private sector to strengthen the global economy and rule of law?
Speakers who will share their reflections include:
Karen Tse – CEO and Founder, International Bridges to Justice
Hilde Schwab – Chairperson and Co-Founder, Schwab Foundation for Social Entrepreneurship
Tarzisius Caviezel – Mayor of Davos
Tatiana Valovaya – Director-General of the United Nations Office Geneva
Dr. Shinichi Kitaoka – President of Japanese International Cooperation Agency
Azza Karam – Secretary General elect, Religions for Peace
Doreen Bogdan-Martin – Director of Telecommunication Development Bureau, ITU
Henry Elkus – CEO and Founder, Helena
Building Hope for the Future: Morning reflections on peace, justice and SDG 16' will take place from 7:30 to 8:30 on Wednesday, January 22, 2020 at the historic Grosse Stube, Town Hall of Davos, Berglistutz 1 within the context of the WEF's commitment to improving the state of the world.
About IBJ
In recognition of the fundamental principles of the Universal Declaration of Human Rights, International Bridges to Justice (IBJ) is dedicated to protecting the basic legal rights of ordinary individuals in developing countries. Specifically, IBJ works to guarantee all individuals the right to competent legal representation, the right to be protected from cruel and unusual punishment, and the right to a fair trial.
Press Contact: Marie Suggitt
Email: msuggitt@ibj.org