Country Programs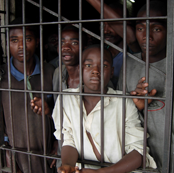 IBJ's country programs are the backbone of our efforts across the globe. We currently maintain an active presence in eleven countries: Burundi, Cambodia, China, Democratic Republic of the Congo, India, Rwanda, Zimbabwe, Myanmar, Mexico, Syria and Sri Lanka. In the years ahead, we plan to open offices in an additional 18 countries. Our country programs contain several essential elements, including the following:
Defender Capacity Building, in which we build the key skills required for criminal defenders to perform their jobs professionally, safely, and with the greatest effect on the justice system.
Defender Resource Centers, offices through which IBJ-trained lawyers provide legal defense services at the earliest possible stage of a criminal proceeding.
Criminal Justice Reform, including roundtables to bring together all justice sector stakeholders to develop practical solutions to access to justice issues, while also breaking down barriers, building respect and promoting collegial relationships.
Rights Awareness Campaigns, using posters, brochures, community education events, radio call-in shows and public service announcements to help individuals understand and gain access to their legal rights.