IBJ's Mission
In recognition of the fundamental principles of the Universal Declaration of Human Rights, International Bridges to Justice (IBJ) is dedicated to protecting the basic legal rights of individuals in developing countries. Specifically, IBJ works to guarantee all citizens the right to competent legal representation, the right to be protected from cruel and unusual punishment, and the right to a fair trial.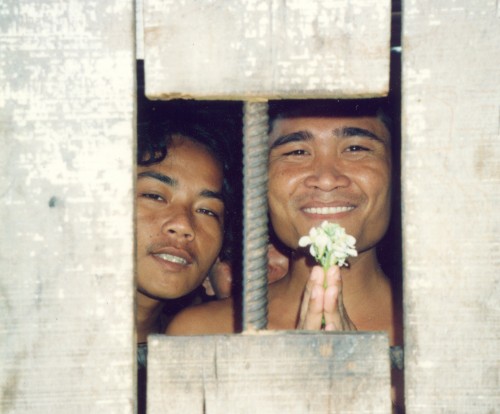 IBJ's Vision
We envision a world where the basic legal rights of every man, woman and child are respected in case of an arrest or judicial accusation, in particular: the right to competent legal representation, the right to be free from torture and cruel treatment, and the right to a fair trial. It's a world where the institutionalization of fair and effective justice practices have eliminated the use of torture as the cheapest method of investigation.
A world where each and every person is knowledgeable about his/her rights and is empowered to demand that they are upheld in practice.
A world where international human rights standards and relevant local laws are brought to life in the everyday practice of justice, and through the consciousness of each and every actor in the judicial system.
IBJ's Objectives
The existence of basic defendant rights in countries around the world requires (1) a sufficient number of trained and available public defenders, criminal defense legal aid lawyers; (2) defenders to be organized in a structure and within a system which ensures that criminal defendants have access to them at the earliest legally mandated time; (3) a judicial environment which respects and embraces the role of public defenders; and (4) international support to accomplish these aims. To this end, IBJ will have three primary objectives, which are detailed below.
1: Provide direct technical support and training to emerging legal aid organizations
a) Training partnerships in the area of domestic criminal procedure and law that are in compliance with international human rights norms and standards
b) Evaluations and analysis of present criminal justice systems in relation to criminal defense, and gaps between the letter of the law and the actual practice and implementation
c) Publication of a nuts and bolts standardized manual of legal aid and criminal defense specific to the laws of each country
d) Establishment of an interactive criminal justice website to link national and international lawyers, and to host eLearning criminal defense training programs
e) Management and development support for public defender associations
f) Assistance in the development of grassroots education strategies
g) Advocacy on the role of defenders within local court, police, and government systems
2: Build International Communities of Conscience to support emerging legal aid organizations
IBJ will seek to encourage and develop individual "Bridges to Justice" communities of conscience throughout the world that will covenant to form supportive relationships with each other and bridge support to partner communities of emerging legal aid.
Presently, there are numerous volunteer resources that could be made available to defenders and legal aid lawyers abroad. Unfortunately, many of these resources are not organized and are not accessible primarily because (1) they have not been solicited and (2) those who might otherwise be willing to volunteer their services or resources find that opportunities are limited and that the barriers to volunteerism in this area are too restrictive. The IBJ volunteer program will facilitate this process by actively soliciting volunteers, outlining clear volunteer options, and providing an easy procedure for individuals and groups to donate their time and resources.
3: Advocate and support the prioritization of just and effective criminal justice systems on the agenda of organizations involved with international human rights and legal development
IBJ will work with other counterpart international organizations to strategize and develop this priority and will lobby for expansion of use of funds in this area.
IBJ will alert other aid organizations as to the needs and further development necessary in this area, and seek to encourage other organizations in their development of programs that complement and supplement IBJ's work. For instance, IBJ will advocate and organize for further training and development of judges and prosecutors in provincial courts and for the training of local police officers.