COVID-19 Response
Along with the Rwandan Bar Association, lawyers from Rwanda Bridges to Justice (RBJ) are the only lawyers nationwide permitted entry into detention facilities. Since lockdown, RBJ conducts visits to detention facilities three times a week.
The newspaper, Umuseke, interviewed RBJ Country Manager John Bosco-Bugingo on the situation for prisoners under the pandemic: https://umuseke.rw/umuryango-rwanda-bridges-to-justice-waburaniye-abantu-4-baregwa-ubujura.html
On April 14, RBJ lawyers went live online representing 7 cases in the new online criminal justice system that began April 9.
---
Impact in Numbers
1 Defender Resource Center in Kigali 
110 lawyers on RBJ Task Force
905 lawyers trained 
4,562 cases represented by RBJ lawyers
42 judges trained 
72 justice roundtables organized
5,498,00 people reached through rights awareness campaigns
 Data as of May 2020
---
Activities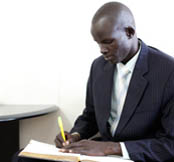 IBJ began work in Rwanda in 2009.  In 2014, we established an autonomous local chapter, Rwanda Bridges to Justice (RBJ).  Our mission is to fill gaps in the country's legal aid system and create a culture in which both political leaders and ordinary citizens understand and support due process rights. We work in close partnership with the Ministry of Justice and the Rwanda Bar Association, with which we have Memoranda of Understanding.
Our Defender Resource Center in Kigali acts as the hub for our activities, including:
Building a supportive community of legal professionals.
Conducting training for defense lawyers and judges.
Providing pro bono legal representation to the most vulnerable, including women, children, and the poor.
Organizing roundtables and rights awareness campaigns to galvanize support for comprehensive legal reform.
---
MOUs + Partnerships
      MOUs
Rwanda Correctional Service (RCS)

Rwanda Bar Assocation (RBA)

National Prosecution Public Authority (NPPA)

Dignité en Détention (DiDé)

Prison Fellowship Rwanda (PFR)

Initiatives for Peace and Human Rights (Ipeace)

Institute of Legal Practice and Development (ILPD)

Association Rwandaise pour la défense des droits de l'homme (ARDHO)
     Partnerships
Ministry of Justice

The Judiciary

Rwanda Investigation Bureau (RIB)

University of Rwanda, School of Law

National Commission of Human Rights

RCN Justice & Democratie

International Committee of the Red Cross (ICRC)
Future Goals
Consolidate work of Kigali Defender Resource Center.
Establish new Defender Resource Centers to meet country's legal needs.
Continue training for defense lawyers and judges.
Expand pro-bono representation to indigent and vulnerable.
Increase efforts to raise legal rights awareness.
---
Country Background
The Government of Rwanda has demonstrated its commitment to legal rights, with signed international conventions and domestic laws that safeguard the rights of the accused. However, protection of the rights of the accused and early access to competent legal counsel remains a challenge in Rwanda. A 2014 report from the United Nations Development Program states that only one lawyer is available for every 9,800 people in Rwanda. The Legal Aid Forum estimates that 80% of defendants in criminal trials do not receive representation or legal advice of any kind. Without skilled lawyers, the accused are likely to experience lengthy pre-trial detention, further taxing the country's prison system.
Contact us at internationalbridges@ibj.org