Zimbabwe
---
Country Background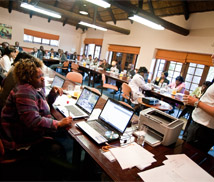 Since 2000, Zimbabwe has been engulfed in a crippling political, economic and humanitarian crisis, which has had an adverse effect on its justice system. Torture accounts for 25% of all reported human rights violations, with some 3,000 instances documented from 2001 to the present. The country's 55 prisons are severely overcrowded, with 30% percent of the total prison population awaiting trial.  Many detainees have remained in pre-trial detention for up to ten years. Human rights organisations estimate that nearly 1,000 prisoners died in Zimbabwe's prisons in the first six months of 2009 alone.
However, a government power-sharing agreement signed in 2008 facilitated the adoption of new legislation, particularly in the field of human rights. This has created an unprecedented opportunity for effective human rights enforcement.
---
What we do
IBJ Fellows provide legal representation to ordinary Zimbabwean individuals accused of crimes.
IBJ conducts legal skills training for lawyers, focusing on trial advocacy, case theme and theory, and direct-and cross-examination.
IBJ coordinates a group of volunteer lawyers who provide free legal representation.
---
IBJ Country Facts
Program established 2008.
Defender Resource Center operating in Harare.
2,945 cases handled.
418 lawyers trained
11 justice roundtables held with local lawyers and justices.
2,505,000 individuals reached through rights awareness campaigns
Data as of  January 2021
---
Future challenges
IBJ is in the process of a major breakthrough regarding its official status in Zimbabwe thanks to a firm commitment received from the Minister of Justice in October 2011 to sign a Memorandum of Understanding with IBJ. This will greatly enhance IBJ's access to facilities and organizational recognition throughout the legal system.
In order to consolidate and sustain progress through this next phase, IBJ has defined three imperatives for its future work in Zimbabwe:
Develop a nationwide service of Defender Resource Centers to meet the country's legal representation needs.
Continue and expand capacity building training of legal professionals.
Expand the reach of legal rights awareness campaigns to empower indigent Zimbabweans to claim their rights.
---
Read Zimbabwe country case stories
Become an IBJ supporter with a donation of any size online
IBJ in Zimbabwe 2009| IBJ in Zimbabwe 2010| IBJ in Zimbabwe 2011-2012| IBJ in Zimbabwe 2013-2014