Tesfaye Ayalew Mekonen, Ethiopia
Project: "Enhancement of the accessibility of justice to inmates of Debre Berhan prison and detainees in Wereda police stations of Semen Shewa zone of the Amhara state"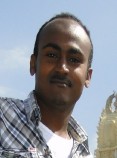 About Tesfaye
Having completed his pre-university education with great success scoring 4.0 on a 4.0 point scale evaluation at the Ethiopian School Leaving Certificate Examination (ESLCE), Mr. Tesfaye Ayalew Mekonen was one of the few students to acquire the honorable award of the Government of Amhara State. He obtained his L.L.B. and L.L.M. at the Addis Ababa University and University of Mysore (India) respectively. At the latter university, he enrolled upon winning the Indian Council for Cultural Relations (ICCR) Postgraduate Scholarship Award. In addition to these exceptional achievements, Tesfaye has been involved in a number of high level research projects (e.g. "The African Charter on Human and Peoples` Rights: The Universalism of Human Rights Vis-à-vis Group Values Debate and Its Implications for Peace Building and Democratization in Africa"; "The Status of Prisoners' Rights and Administration of Penitentiary Justice as an Instrumentality for the Reformation of Prisoners: A Case Study in Shewa Robbit Prison").
He has worked as an instructor of law in law colleges and as a legal advisor for the Addis Ababa City Administration Land Management Project Coordination Office. As of September 2013, he has been Lecturer of law at the Debre Berhan University. In his beliefs and vision, this brings about the remarkable responsibility of cultivating well-versed citizens who will, one way or the other, determine the fate of the country.
In addition to his teaching and research work, he has been providing free legal aid services for vulnerable groups of society through the Free Legal Aid Centre of the University. Mr. Tesfaye Ayalew Mekonen has been particularly concerned about the multi-faceted and complex problems of prisoners, such as the lack of proper follow up of their litigation at the trial and appellate level, absence of due care/protection for their property left behind and the lack of proper attention for procedural justice throughout the proceeding they have gone and during their stay in the prison. With the awarding of the JusticeMakers Fellowship, Mr. Mekonen will be empowered to address these societal concerns even more effectively.
Innovation
Mr. Mekonen intends to improve the cooperation between the Debre Berhan Prison and the Wereda Police stations. This enhancement will narrow down the gap there is in the criminal investigation procedure, ensure that torture will never be used as an investigative tool, and avoid long periods of pre-trail detention. This project is being established to ensure prisoners' rights of access to justice and a quick trial.
Progress
September 2015, Mr. Mekonen main activities include weekly visits to prisons and handling cases. He offers guidance to prisoners and works on appeals as well. Mr. Mekonen has completed the preparation of training manual on how to conduct effective criminal investigations and emphasizing the human rights of prisoners.