Ms. Lilian Ada Adakole, Nigeria
Project: "Building the capacity of stakeholders within the criminal justice system to end abuse and torture of accused persons within the criminal justice system in Nigeria"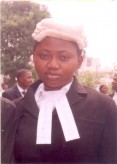 Ms. Lilian Ada Adakole obtained her L.L.B. and B.L. degrees at the Benue State University and Nigeria Law School respectively. It is her worthy vision to work in collaboration with others  to create institutionalized systems where human rights and dignity of an individual are respected regardless of their race, gender or religious affiliation.  Ms. Adakole is a member of the Women Human Rights Defenders/Advocacy Network, where she actively pursues  to resolve women's development challenges. 
The Project: In Nigeria, criminal suspects are taken into custody on suspicion of crimes based on statements and evidence obtained by the police,  in many cases, they are obtained by torture or duress without access to a lawyer or knowledge of their constitutional rights. Ms. Adakole's project aimed to reduce the disconnect between Constitution and practice. She  worked to establish a sustainable legal assistance program that offers early legal intervention for defendants.
In addition, Ms. Adakole  conducted a study of the arrest and investigation system and worked to build capacity and awareness among police and prison officials on proper investigative methods  in the hopes of eliminating the use of torture as an investigative tool.  
Results: The Project has led to the creation of a network of lawyers and other professionals who, together with past JusticeMakers Fellows, work to promote and protect the rights of suspects and detainees against unlawful detention and coercion.
The Project has significantly increased the level of public awareness on the right not to be tortured and on the right to a  fair trial which belong to every criminal suspect and prisoner. In particular, it has been possible to extend this  awareness to civil society and Government officials.
Lastly, the Project has contributed to guarantee the right of legal representation for indigent accused persons.
The above results have been achieved through various activities. The meetings between the Project team leader and the volunteers were aimed to design a common strategy and to involve volunteers who had never worked before in a legal aid field.
Visits to detention facilities, in order to both interview the staff and to provide support for the prisoners, were often carried out. During these visits, the prison officers were usually asked to compile questionnaires in order to better understand their level of knowledge on the rights of the prisoners.
Another pivotal activity was the  constructive dialogues with state officials who work within the criminal justice system.
The meetings, dialogues and consultations with the state officials can be considered a key element of the strategy adopted to implement the Project. The progress made  is very encouraging as justice stakeholders and detainees alike were engaged in all of  the different activities.
Ms Adakole intends to continue working on the Project with the support of another Justice Makers Fellow, Patrick Dunkwu.
In November 2016, Ms. Lilian Ada Adakole was named Woman of the Year at the WINConference in Nigeria in recognition of her important work.