Lawyer2Lawyer
Communities of Conscience
Defender Empowerment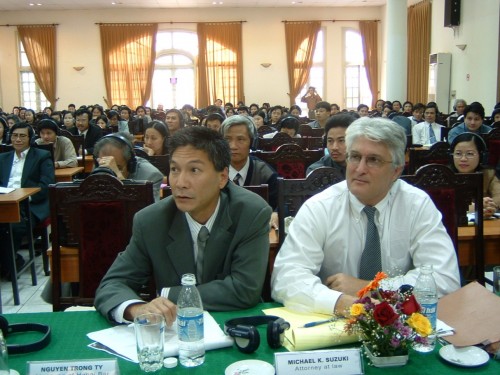 International Bridges to Justice's Communities of Conscience program forms a part of our broader Lawyer2Lawyer initiative, bringing lawyers from countries with underdeveloped legal systems together with lawyers from countries with effective justice systems. Broadly, it aims to build a mentorship between developed and developing country lawyers, expose developing country lawyers to functioning justice systems, provide a model to look up to and support network for developing country lawyers, and provide defenders with greater experience and credibility.
The Communities of Conscience program is intended to provide important international visibility of the work of defense and legal aid lawyers in developing countries by providing vital links to lawyers in higher-profile countries and eliminating the cultures of secrecy, corruption and physical abuse in which defense lawyers have often toiled.
Criminal defense training is new and hard to come by in most developing countries. Consequently, the legal reforms that provide for basic rights are relatively new, and the academics and legal practitioners have not had much time to develop and implement procedures that advocate for these rights. Criminal defense attorneys in North America and Europe are thus well situated to bring their skills and practices to these legal aid lawyers.
These are the defender empowerment and cultural exchange programs that inspire developing world legal aid lawyers to become strong, professional, and impassioned advocates for their clients in the face of enormous challenges.
Communities of Conscience Aims To:
Establish mentoring relationships between lawyers from developed and developing countries
Allow observation of established legal systems at work for legal aid lawyers from developing countries
Provide a solid support and safety network for emerging public defenders, who may operate under duress in their home countries
Provide defenders with an experience that will increase credibility and ability to implement and communicate the IBJ model at home.

The program thus goes beyond equipping defenders with the technical and legal know-how to represent a client before a tribunal. Equally important is to recognize that the challenge of criminal defense goes far beyond technique, requiring commitment to an ideal that perseveres in spite of occasional failure. This community-based exchange program will thus also be an opportunity for them to build international connections that can serve as a powerful source of encouragement and protection.
How it Works
I.  A core team based in the host country (the "Community of Conscience") arranges for local public defenders (or other legal experts) to lead training sessions on basic skills and develop mentoring relationships with the Asian defenders.
II. The Community of Conscience makes arrangements for peripheral needs such as fundraising, housing, food, and sightseeing. Family networks, law schools, religious groups, businesses, and law firms can be approached for assistance with planning and logistics. IBJ is responsible for making arrangements with the country governments and providing materials and guidance/advice to those developing the training program.
III. Selected defenders travel to a location in North America or Europe for an intensive two-week program:
They attend trials, visit public defender or legal aid offices as well as detention centers, and establish a vitally important mentor relationship with a network of Western lawyers and legal experts.
Through this experience, trainees gain skills and knowledge to provide more effective defense for their clients and return to operate as a leader and "trainer" in their home legal communities.
 Past Events:
Dublin, October 2006- Organized event between Irish and Chinese Lawyers
Washington, D. C., January 2007- Organized event between US and Chinese Lawyers
Geneva, 2013- Organized event between Swiss and Burundian Lawyers