Lawyer2Lawyer
Building Bridges of Collaboration
Our Country Programs and JusticeMakers Fellows go above and beyond on a daily basis, doing invaluable work under extraordinary challenges. Therefore, lawyers in developed countries have resources that can be exceedingly impactful when deployed where they are needed most. We cooperate with firms, public defender's offices, bar associations, law schools, and individual lawyers to bring resources to bear in countries where we work, helping local lawyers with training, mentorship, and support.
How Can Firms Participate?
The baseline commitment that we are seeking from our Lawyer2Lawyer partners at this time is to create at least one country-specific eLearning course. IBJ provides a toolkit consisting of a template and other resources, and the partner develops the course based on its own research along with input from IBJ's local affiliates, then works with the local bar association(s) to obtain certification for the course. If this is not feasible, there are a number of other basic sponsorship and mentoring opportunities.
Ways to assist  our  Lawyer2Lawyer Program:
Create at least one country-specific

eLearning

 course and Defenders Manual for public defenders
Sponsor and assist in the development and/or operations of IBJ Online Gateway mobile app for smartphones and tablets:

IBJ OnLine Gateway will provide defenders with mobile, "single window", access to all of our on-line resources (eLearning, Defenders' Manuals, Defense Wiki) and to interactive features including:

The Defender Discussion Forum where defenders in different countries can post stories, and exchange questions, answers and experiences.
Case Management Software.
Online Defender Accreditation System (linked to the eLearning courses).
Sponsor the development and/or operations of a country Access to Justice Hotline:

IBJ is working to develop a hotline system whereby an arrestee can send a text message alert to the defenders' office, so that a defense lawyer can be dispatched immediately to the place of detention.
Benefits for Participating Law Firms: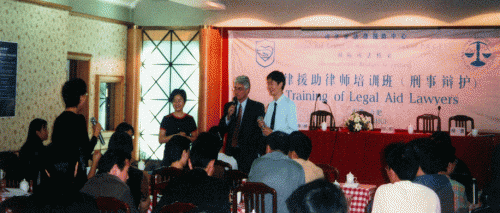 We sincerely believe that partnering with us in Lawyer2Lawyer will be mutually beneficial, enriching your organization and deepening its connections in countries of interest to you, and helping IBJ to achieve its ultimate, critically important, human rights and access to justice goals.
Our experience has proven that this pro bono program is a win-win-win partnership.
1.  Truly Transformative Work– Allows lawyers in the poorest and most remote regions of the world access the knowledge and build the skills necessary for them to protect their clients from cruel and unusual punishment and torture
2.  Excellent Experience– The human rights aspect and technical requirements of each project hone and develop indispensable research and writing skills
3. High- Level Networking and Expansion– Each program requires that the law firm builds high-level contacts with countries' governments, bar associations, and lawyers. These contacts will prove invaluable as your organization expands its business activities in its Lawyer2Lawyer countries and work.