Garima Tiwari 
2012  JusticeMakers Fellow, India

Educating lawyers about supreme court's guidelines on HIV/AIDS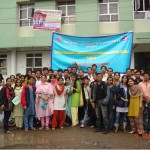 Garima Tiwari, a lawyer in Bhopal, Madhya Pradesh, India, saw first-hand the ignorance of justice sector officials about the rights and needs of people living with HIV/AIDS within the criminal justice system during her research as a law student at the National Law Institute University. Conservative prison and police officials were unwilling and unable to discuss HIV/AIDS due to the taboo nature of the subject. This leaves people living with HIV/AIDS without medical and legal support.
Project: Upon graduating from law school, Ms. Tiwari decided to dedicate part of her career to increasing awareness of the rights and needs of people living with HIV/AIDS within the criminal justice system of Bhopal, India. She has organised training sessions with lawyers, prison officials, and police officials on the needs of this vulnerable group. These trainings drew on the resources of law students and Ms. Tiwari's connections within the legal community to improve the lives of people living with HIV/AIDS in a criminal justice system that frequently ignores their needs out of fear and taboo.
Garima has partnered with Grayscale, a pan-Indian association of law students, on many projects. Grayscale provide pro-bono assistance with both legal and non-legal research, proof reading, field work, documentation and case summaries. They have also helped Garima prepare a write-up for her survey on HIV awareness in her area.
RESULTS:During her fellowship, Ms. Tiwari gained support from the Madhya Pradesh AIDS Society and the Madhya Pradesh Network of People Living with AIDS.  Many of the cases with which she worked were sent to her by these organizations. Ms. Tiwari had many obstacles to overcome in helping those who are living with HIV/AIDS and in spreading awareness to groups who are the most affected by this. One of the biggest challenges was spreading awareness to women about these issues, as there is little talk by women on the issues relating to HIV/AIDS due to the stigmatized nature of the subject. In order to solve this, Ms. Tiwari found and trained woman volunteers about HIV/AIDS so that these women could become leaders in their communities and spread this knowledge to a larger audience. Furthermore, she had separate discussions about these topics with men and women. She also visited hospitals in areas that had a large number of truck drivers (a group that has high rates of HIV/AIDS due to unprotected sex and drug usage) and spoke with doctors to make sure that they were adequately prepared to meet the needs of people living with HIV/AIDS.
One of the most successful tools that Ms. Tiwari used during her fellowship were her community outreach programs. These meetings were created  to spread awareness about HIV/AIDS to trucker communities, workers in the industrial areas, and family members of prisoners. Most people who attended these meetings had little knowledge of HIV/AIDS and some had never heard of it before. Her first program was so successful that local authorities asked her to hold more. Further, Ms. Tiwari visited labour courts to discuss with judges HIV/AIDS in the criminal justice system and had discussions with the Chariman of the Madhya Pradesh Law Welfare Board and with the president of the Madhya Pradesh Network of People Living with AIDS. To promote the Right to Education act, she also visited museum, schools and slums where she spoke to children about their rights. Ms. Tiwari also spoke with Bhopal Gas Tragedy victims, children, and lawyers to discuss the need for legal aid and the implications of the settlements (now called the biggest criminal justice disaster in the country) that came following the tragedy.
During Ms. Tiwari's fellowship, a new policy on HIV/AIDS was created and enacted in the Bhopal Prison. Prior to this, there was a lack of HIV/AIDS testing in this prison, with 2010 being the most recent year in which prisoners had been tested. During this last test, almost 100 prisoners tested positive for AIDS; the prison officials denied that the prisoners could have gotten AIDS in prison. Further, the debate about S. 377 of the Indian Penal Code, which criminalizes homosexual conduct, led to serious concerns among Ms. Tiwari and her coworkers who feared that accepting or acknowledging any homosexual activity in prison would cause controversy. However, after Ms. Tiwari discussed these issues with lawyers and prison officials, the group agreed that there need to be more regular tests and awareness programs for prisoners and more awareness and training programs for prison guards in order to help solve this problem.