Dmytro Tupchiienko
2012 HIV/AIDS JusticeMakers Fellow, Ukraine

Implementation of laws related to the treatment of people living with HIV/AIDS in the criminal justice system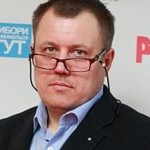 Dmytro Tupchiienko, an attorney and development professional in Kiev, Ukraine, has been working to improve the rule of law in Ukraine for over 10 years. Working with organizations such as EuropeAid and the United Nations Development Project, he has advised the Ukrainian government and other agencies on the legal aspects of development. In doing so, he discovered inconsistencies in both the implementation of laws governing criminal justice officials and in the laws themselves. In particular, he saw a disconnect between the laws as they are written and their implementation when the laws related to the treatment of people living with HIV/AIDS within the criminal justice system.
In order to eliminate this disconnect and improve the conditions for people living with HIV/AIDS in the criminal justice system, he conducted a thorough study of the laws, proposed and lobbied for any changes that needed to be made, and then conducted trainings with justice sector professionals on the law and its proper implementation. Mr. Tupchiienko has sought to improve the treatment of people living with HIV/AIDS within a Ukrainian criminal justice system that can often be capricious at best.
Results: Mr Tupchiienko obtained, in the realization of his Project, the cooperation of important institutions such as the High Specialized Court of Ukraine for Civil and Criminal Cases, the Supreme Court and State Court Administration and the Ukrainian Catholic Church Pastoral Office for Prisons.
Mr Tupchiienko also worked  with the State Penitentiary Service which allowed him to deliver several presentations at the Training College. In addition, his Project was noticed and appreciated by the Delegation of the EU to Ukraine. As a result, he was asked to draft comments to the Ukrainian Code of Criminal Procedure.
He also  conducted a detailed survey aimed to verify the level of awareness in the Ukrainian prisons about the treatment that people with HIV/AIDS are entitled to receive in prison. Moreover, the objective of his research was also to determine whether the policies and practices adopted by the Ukrainian prisons were able to guarantee an adequate treatment to people affected by HIV/AIDS. It should be underlined that this represents the first study that has been conducted in Ukraine on this issue. The survey was requested by Cambridge University and the UNODC.
The other part of the Project included visits to four prisons in order to provide training sessions for the personnel.