COVID-19 Response
DRCBJ contacted political, administrative, and judicial authorities, as well as the national and provincial bar, to recommend holding regular hearings for cases regarding detention, minors, conditional releases, and detainees prosecuted for non-serious acts.
DRCBJ also advocated for a reduced number of detainees in compliance with preventive measures against the COVID-19 pandemic.
DRCBJ addressed the Tribunal de Grande Instance of Bukavu in order to urge deliberation of pending cases, which was realized by affiliated lawyers and judiciary defenders.
The doors of DRCBJ have remained open throughout the pandemic to provide pro-bono legal aid.
---
Impact in Numbers
43 lawyers trained
1,560  cases represented by IBJ lawyers
45 justice officials trained through roundtables
5,028,783 people reached through rights awareness campaigns
 Data as of Jan 2021
---
Activities
In 2016, IBJ officially opened a Defender Resource Center in Bukavu, the Congolese province of South Kivu. This marked the launch of IBJ's 7th country program.
Our Defender Resource Center acts as the hub for our activities, including:
Creating basic rights awareness campaigns.
Monitoring and visiting detention centers.
Providing legal aid for accused women by female lawyers.
Training for defense lawyers.
---
MOUs + Partnerships
Ministère National de la Justice

 Barreau de Bukavu

 Corps de défenseurs Judiciaire de Bukavu 

División provinciale de la justice 

Task force justice pénale internationale

INSO

Visión sociale
APEC
Bureau de Coordination provinciale de la Société Civile du Sud – Kivu
Parquet pres le tribunal de grande instance de Kavumu
Cour d'appel du sud-Kivu
Cluster protection sud-Kivu
Division provincial des droits humains sud-Kivu
Partenariat pour la protection intégrée
Partenariat informel avec UNHCR sud-Kivu
IBJ
Université Catholique de Bukavu
---
Future Goals
Provide immediate competent legal assistance to any ordinary citizen accused or in detention and to any victim of torture or cruel, inhuman, and degrading punishment who is deprived of access to a lawyer in the DRC.
Strengthen collaboration with the main stakeholders (local authorities, donors, United Nations agencies, international and national NGOs, and universities) to advocate for the fundamental rights of ordinary people accused or detained and work towards the local implementation of laws to protect them.
Inform citizens about their fundamental rights.
Extend the free legal aid activity to other provinces of the DRC.
Strengthen the capacity of the DRCBJ team in terms of organizational competence, development of well-targeted programs, and highly transparent and accountable compliance procedures, positioning the organization as a well-accepted and highly principled actor in the sector of access to justice.
---
Country Background
Following the signing of a Memorandum of Understanding with the Ministry of Justice in the Democratic Republic of Congo in May 2016, IBJ officially opened a Defender Resource Center in Bukavu, in the Congolese province of South Kivu, in June. This marked the launch of IBJ's 7th country program. IBJ's DR Congo program is part of a larger Francophone Africa program supported by a generous grant from Global Affairs Canada, which IBJ is implementing in partnership with Montreal-based Equitas – International Centre for Human Rights Education. IBJ Founder Karen Tse and International Program Director Sanjeewa Liyanage visited Bukavu and Kinshasa in May 2016 to set in motion this new project.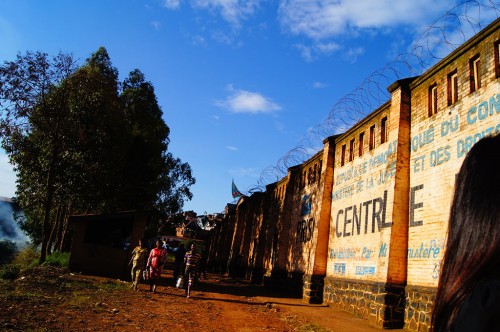 Outside of Bukavu Central Prison
There is a great need for access to legal counsel in the DRC. While torture is criminalized in the DRC under Articles 16 and 18 of the Constitution, under Articles 67 and 180 of the Penal Code, as well as Law No. 11/008 taken up on July 9th, 2011, individuals in pre-trial detention are still extremely vulnerable to physical, mental, and sexual abuse, including torture. By visiting both jails, detention centers, and "dungeons" (unofficial detention centers) with prosecutors, IBJ was able to provide earlier legal assistance to indigents and to prevent torture in detention. With 73% of the DRC's prison population made of pre-trial detainees, IBJ concentrates its efforts to provide legal help to individuals who are too poor to otherwise afford a lawyer.
By taking on pro-bono legal cases, IBJ ensures that every woman, man, and child accused of a crime is judged fairly in a court of law, to reduce prison overcrowding, and to reduce instances of abuse – which most often happen in pre-trial detention. With Avocats Sans Frontières, one of the main providers of pro-bono legal aid, having ceased their activities in the DRC in April 2016, and no state-sponsored legal aid available for indigent individuals, the need for access to legal aid is greater than ever. In August 2016, IBJ lawyers started taking on legal cases. In only 5 months, IBJ had provided legal representation to over 100 people. In addition, IBJ is fulfilling its mission of improving access to justice in the DRC and strengthening rule of law by undertaking several complementary activities.
---