Across Africa, the cries for justice grow increasingly louder. And on the justice frontlines in every country are the legal defenders – working tirelessly to defend the poor, the marginalized, the victimized. In late 2020, IBJ established the African Access to Justice (AA2J) Women's Network to directly support these defenders to provide due process under the law to incarcerated women and girls in 10 African countries: Burundi, DR Congo, the Ivory Coast, Kenya, Niger, Rwanda, Senegal, Tanzania, Tunisia and Zambia. As part of this newly established transnational effort to support women in justice, IBJ selected ten outstanding African women legal defenders to serve as the founding members of the AA2J Women's Network. Each Fellow is building an AA2J country chapter with a cadre of local women lawyers, linked to the broader AA2J pan-African community. This AA2J initiative also builds leadership opportunities for African women lawyers in places where bar associations remain overwhelmingly male-dominated. IBJ thanks the Swedish Postcode Lottery Foundation for its visionary support for this pioneering project.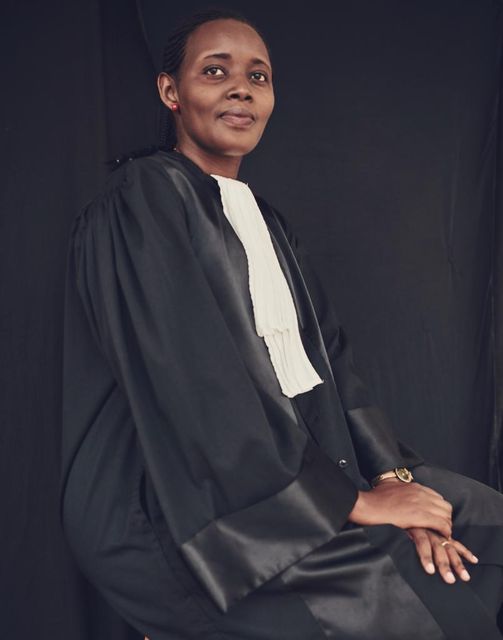 10 African Countries, 100 Women Legal Defenders
700 Accused Women + Girls Represented
The Problem: Facing the brunt of so many injustices the world over, are women. And Africa is no exception. Over the last fifteen years, the number of women imprisoned across Africa grew by nearly 25%. These women are often too poor to afford the protection of a lawyer and vulnerable to systemic gender-based violence which has only been amplified during the COVID-19 pandemic. The Office of the United Nations High Commissioner for Human Rights reports that:
"Women detainees face degrading treatment during arrest, interrogation and in custody, including being stripped; invasive body searches; [and] rape and threats of rape."
The IBJ Solution: Although the problem is widespread and dire, it is also solvable. The solution is simple: early access to competent legal representation. Defenders help prevent the accused from torture and prolonged periods of detention. Access to justice is the answer. 
African Access to Justice (AA2J) Women's Network Launch
From June 22 to 24, 2021, 100 women lawyers from across the globe gathered online to celebrate the launch of the AA2J Women's Network and congratulate in an awards ceremony, the founding cohort of 10 AA2J Women Lawyer Fellows.  It was a milestone opportunity for women legal defenders from the United States, Europe, and Asia to meet IBJ's new Fellows and share stories, ideas, and best practices.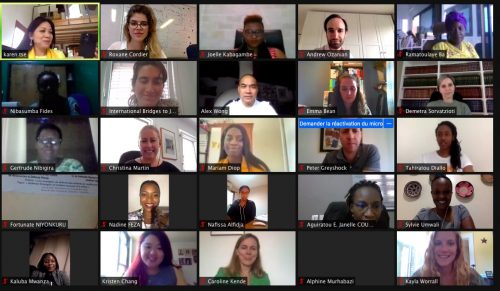 Maxine Olausson from the Swedish Postcode Lottery Foundation provided opening words and renowned criminal defense lawyer Nancy Hollander gave a keynote speech on  how to: "Build a Woman Legal Defender's Global Movement." IBJ Board Member and Criminal Defense Lawyer Mia Yamamoto offered uplifting remarks, while  Senior Adviser to the African Center for Economic Transformation Caroline Kende-Robb provided facilitation for this one-of-a-kind event.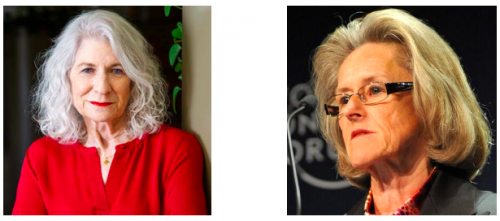 Hilde Schwab, Chairperson and Co-Founder of the Schwab Foundation for Social Entrepreneurship, opened the awards ceremony for the 10 AA2J Fellows. Women leaders from diverse backgrounds presented the awards to each of the AA2J fellows and offered them words of advice and support: Sheryl WuDunn (Pulitzer Prize-Winning Journalist); Nancy Abell (Co-Founder, UCLA Law Women LEAD); Joan Darby (IBJ Board Member); Bonnie Fatio(Founder, Inspired Women Lead!); Elizabeth Howe (President, International Legal Assistance Consortium); Katharina Samara-Wickrama (Director, Issues Affecting Women Programme, Oak Foundation); Patti Kachidza (Co-Founder, Zimbabwe Women Lawyer's Association); Larisa Dinsmoor (President, Orange County Bar Association); and Cheryl L. Dorsey (President, Echoing Green).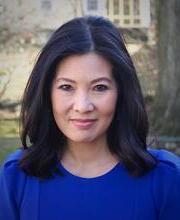 The launch also served as an opportunity to offer AA2J Fellows with advocacy tools and skills to provide enhanced legal protection to incarcerated women and girls in their countries; IBJ founder and CEO Karen Tse, IBJ International Program Director Sanjeewa Liyanage, and international Criminal Defense Lawyer Michael G. Karnavas conducted training sessions.
Who We Are: Founded in 2000, IBJ is a nonprofit organization and international justice movement that provides vulnerable accused individuals early access to a lawyer in order to prevent investigative torture and ensure due process rights. In addition to years of work in Burundi, DR Congo, Rwanda, and Zimbabwe, IBJ has fostered justice defenders in Cameroon, the Ivory Coast, Kenya, Malawi, Mauritania, Nigeria, Tanzania, Togo, and Uganda. As a global justice pioneer, IBJ has trained a community of 31,000 legal defenders across the world who have provided legal assistance to 404,000 accused. Our online training materials have been accessed 20+ million times in over 100 countries, and we have reached 36+ million people through rights awareness campaigns. IBJ collaborates with governments and civil society to build systematic access to justice and rule of law and helping to prevent human rights violations before they occur. Access to justice saves lives and contributes to a fairer, more just world.