Gabriela Eugenia Vázquez
2011 JusticeMakers Fellow, Argentina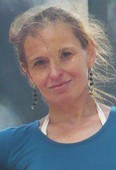 Ms. Vázquez has been a practicing lawyer in Argentina since 1991 and has focused her career on human rights issues surrounding HIV/AIDS and children. She is currently the legal advisor at the Ministry of Human Rights and Social Development where she works to promote and address issues surrounding the right to health and HIV/AIDS prevention as well as youth in the criminal justice system. Ms. Vázquez has also served as a lawyer in the Office of Child GCBA CNNyA from 1999 to the present working on such projects as training on the rights of children and adolescents as well as the rights of children and youth. In addition, she has been actively involved in HIV/AIDS prevention by conducting workshops on HIV/AIDS prevention. Through her work, Ms. Vázquez has been exposed to the growing issue of HIV/AIDS in Argentina's prison population.
In the province of Buenos Aires, around 25,000 people are confined in 21 various prison units. Of these 25,000 individuals, anywhere from six to twenty-five percent are infected with HIV/AIDS. Argentina's prison system is targeted towards vulnerable groups, especially against poor and excluded youth who have committed property crimes. These individuals have a very high prevalence rate of HIV infection because transmission easily occurs in an environment where youth are given very little attention by prison officials.
In addition to the systematic problem of HIV/AIDS in the Argentine prison system, there are international concerns about the treatment of prisoners held in custody. Reports from Argentina have demonstrated that abusive treatment of prisoners is occurring across the country, but is particularly serious in the Buenos Aires province, which happens to correspond to the high infection rates of HIV/AIDS. Furthermore, recent concerns have emerged about Argentina's prison management policies. In an attempt to respond to societal concerns about security in the country's prisons, local prison officials have responded by stiffening sentences and punishing prisoners more severely in violation of their constitutional rights.
Almost a quarter of the prisoners held in the province of Buenos Aires are infected with HIV/AIDS. The epidemic continues to spread throughout the prison population as those targeted vulnerable groups, such as poor and excluded youth, continue to lack appropriate resources and support to reduce transmission rates, get the epidemic under control, and lead healthier lives. Prison officials do not have the resources or training necessary to help prison youth reduce HIV/AIDS transmission rates. In addition, the three levels of authority within the prison system – the health branch, which is responsible for the treatment and care of the prisoners, the security branch, which is responsible for maintaining the prisoners' safety, and the administrative branch, which is responsible for administrative and legal processes of the inmates – do not have open and seamless communication with each other about the health and well being of the inmates. As a result, inmates do not receive the type of care and support needed to bring the HIV/AIDS epidemic under control.
The Project: Ms. Vázquez used her JusticeMakers Fellowship award to promote the right to health and prevent the transmission of HIV/AIDS in Argentina's prison system. To accomplish this goal, Ms. Vázquez will implement and strengthen preventative spaces between individuals in the same confinement area, engage the security professional and criminal work unit in prevention of HIV/AIDS, and strengthen the counseling unit by coordinating various actors in the criminal justice system. In addition, the counseling sessions offer advice and deliver brochures and condoms to the inmates at specific times and generally throughout the prison. Ms. Vázquez facilitated a workshop for the security personal addressing issues relating to human rights, HIV/AIDS transmission, sexuality, communication, and preventative strategies. In addition, she formed a commission between internal health promoters, members of the technical team and security personnel to plan and implement prevention of HIV/AIDS in prisons. Through these works, Ms. Vázquez significantly reduced the transmission of HIV/AIDS in one of Argentina's prisons while simultaneously educating both inmates and prison officials about HIV/AIDS and general health.