Mabel Jenny Antezana Arispe
2011 JusticeMakers Fellow, Bolivia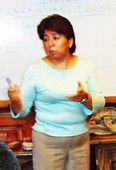 Mabel Jenny Antezana Arispe has been a practicing lawyer in Bolivia since 1997, earning a Bachelors of Law and Politics from the Universidad Mayor de San Simon and a post graduate degree in Criminology from the Universidad de la Habana-Cuba. She has been a member of the Permanent Assembly for Human Rights since 1990. More recently, Ms. Antezana Arispe taught Roman Law at the Universidad Mayor de San Simon and was an oral  advocacy trainer for Proyecto ACCESO, a rule of law training and public education program.
Ms. Antezana Arispe also has extensive experience in the area of water rights, having been invited to speak on the topic by both the Law Society and State Bar of Cochabamba. In 2009, she was a contributor to the parliamentary committee regarding legislation on the environment and renewable resources.
Most prisons in Bolivia lack the infrastructure and legal support to protect the rights of detainees. Prisons are extremely overcrowded and pretrial detainees frequently spend months in prison without access to counsel. Although the operation of the criminal justice system is regulated by law, often proper investigations are not conducted by the police and proper procedures are not followed by courts because of they are unaware of what is legally required of them.
The Project: Train lawyers that represent the accused in order to ensure that pretrial detainees have access to justice promptly and effectively. Bolivia's criminal justice law outlines the anticipated role of the attorney, however, this role is often unfulfilled due to lacking enforcement. Currently, attorneys often only take care of favors for pretrial detainees, like relaying messages to family members, rather than preparing a proper criminal case.
Training of pretrial detainees educates them on the rights they are entitled to, further spreading awareness. The accused are therefore more aware of why they have been detained and the rights protecting them. The trainings teach inmates skills and provides them a sense of duty, which helps them reintegrate into society. Ms. Antezana Arispe asserts that better training of criminal defense attorneys and increased awareness of rights amongst detainees, will undoubtedly result in less crowded detention centers and a more efficient criminal justice system.