Junaid Khalid
2010 Asia JusticeMakers Fellow, Pakistan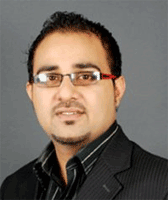 About Junaid
Born and raised in Karachi, Junaid Khalid attended the University of Karachi and studied Business and Economics.  He then went on to work for over five years with multinational organizations in the fields of organizational planning and information technology, followed by five years in the non-profit sector, using all the skills gleaned from working in the corporate world. Junaid currently works as Joint Secretary at two NGOs , Be In Vision Pakistan  (http://www.youtube.com/beinvisionpk) and the Pakistan Lawyers Foundation.  He also conducts trainings on social responsibility to the professional sector of Pakistan free of charge.  Additionally, he works as a researcher and a consultant, providing reports to many organizations around the world. Junaid believes that in order to make a society ideal and flourish, criminal justice needs to be addressed.  With previous experience organizing medical camps to bring medical treatment to isolated areas, he recently realized the great need for legal rights camps.
Locating the Problem
While Junaid acknowledges that Karachi is progressive in terms of building its criminal justice system, only a few privileged people have access to justice.  There are also many communities where people are suffering because community leaders lack awareness. Junaid Khalid has identified three central problems with legal rights implementation in Pakistan: inadequate awareness of legal rights among community leaders, and thus the community, a shortage of legal practitioners, and a lack of good governance and community-level organization.
Innovation
Junaid's project offers several solutions to these problems. First, he will set up multi-purpose camps in underprivileged communities with teams of lawyers, human rights officers, local government personnel, doctors and social workers from his NGO. The teams will deliver lectures to community leaders on good governance and carry out rights awareness campaigns. They will screen cases and focus on the most critical; Junaid will ask the community to contribute legal fees to these cases. The team will also develop a website to provide online legal assistance to Pakistani citizens, to be monitored by lawyers from his NGO. Finally, Junaid will attempt to raise awareness through press releases, radio programs, corporate endorsements, online publicity, and discussion boards and forums.