Nana Chapidze
2010 Asia JusticeMakers Fellow, Georgia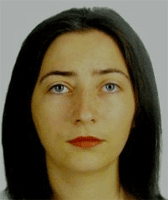 About Nana
As a lawyer, human rights activist and NGO pioneer, Nana Chapidze is dedicated to implementing democratic changes and human rights standards in Georgia. She has worked in a number of national non-governmental organizations, engaging in initiatives focusing on the development of civil society and establishing democratic values, with an emphasis on ensuring the protection of human rights mechanisms in Georgia.
In 2003, she began assisting the NGO "Article 42 of the Constitution" with its legal clinic and legal aid programs. In this role she discovered her passion for legal rights, serving as a legal consultant to socially vulnerable citizens. She witnessed firsthand the plight of those without adequate knowledge of their legal rights, and their paralysis within the criminal justice system.
Almost simultaneously, she became a member of the Kutaisi branch of the Georgia Young Lawyers' Association, one of the premiere legal bodies in Georgia. She became involved in their programs, conducting human rights monitoring and reporting, as well as overseeing legal education projects. In 2009, she was appointed a member of the Board.
What truly cemented her zeal for criminal justice was her time spent with the Human Rights Center (HRIDC) in 2007. She worked as a lawyer and legal coordinator, consulting and providing legal aid directly to vulnerable groups in Imereti, Georgia. Specifically, she focused on the judicial monitoring of juvenile cases, setting the stage for her 2010 JusticeMakers proposal.
 The Problem
The Georgian juvenile justice system is regulated by a complex web of procedural rules and legislation. This has inhibited the system, limiting its institutional and programmatic capacities. Georgia's reports to the United Nations Convention on the Rights of Children have resulted in grave responses and sweeping recommendations. While the Georgian judicial system contains a legal aid mechanism, there is very little specialization for juvenile cases. These factors have created a grim reality for juvenile offenders, with a lack of qualified legal aid counsel and inadequate information for juveniles. Additionally, the current system follows the principle of "adult time for adult crime," rather than rehabilitating juveniles in preparation for their reintegration into society. The government has been inert in its attempt to reform the juvenile justice system and align domestic legislation with established international standards.
Nana has created a resource center for juvenile justice reform, which includes a database of statistics, domestic and international legislation, and contact details of qualified lawyers. Coordinating with the Georgia Young Lawyers Association, the resources are publicly available, and marketed specifically towards relevant NGOs and communities with a high rate of juvenile offenders. She also designed and distributed guidelines and brochures on juvenile justice and the rights of juvenile detainees to key legal stakeholders.  These training's  targeted capacity building and specialized skills-training in order to improve the legal protections of juvenile offenders. In addition, a registry of lawyers for juvenile cases were created.
Results
Ms Chapidze successfully created the resource center at the "Georgian Young Lawyers Association" for juvenile justice reform which included a database of statistics, domestic and international legislation and contact details of qualified lawyers.
The second part of the Project was aimed to rise awareness on juvenile justice issues. Ms Chapidze organized roundtables which were attended by NGOs representatives, teachers, social workers and youth. On that occasion, the need for  legal reform within the juvenile justice system was discussed and Mr Ronald Kerry, a UNICEF representative, gave his precious advices on how to best implement the Project.
In addition, training sessions were specifically designed for children in order to teach them about the basic rights contained in the UN Convention on the Rights of the Child. Other trainings were organized for professionals working in the juvenile criminal system. An innovative approach was adopted during these trainings which were focused on two main aspects: on one side the relevant legislation at both the national and international level, on the other side all the psychological and social aspects which can affect children involved in criminal activities.
Lastly, it should be highlighted that, with the experience gained during the implementation of the Project, the Georgian Young Lawyers Association, has continued working on other Projects.  One of which was aimed to protect the rights of Gypsy children.