H.M. Harshi Chitrangi Perera
2010 Asia JusticeMakers Fellow, Sri Lanka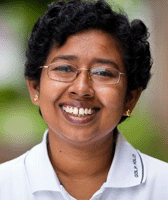 IBJ 2010 Asia JusticeMakers Fellow, Harshi Perera, grew up in an environment where human rights played a central role. Her father Chitral Perera founded Janasansadaya (JS), or "The People's Forum," an organisation providing legal counsel for Sri Lankan torture victims at every stage of the legal process. JS frequently held meetings in Harshi's home, and she became aware from a young age of the vast injustices and suffering endured by many Sri Lankans within the country's criminal justice system.
Harshi has since dedicated her career to addressing these issues, and advocating for the rights of the most vulnerable populations within Sri Lankan society. After receiving her law degree with a specialization in human rights in 2008, Harshi started working formally with JS on individual cases and human rights violations. She participated in rights awareness campaigns for young people, and facilitated counselling sessions for survivors of torture. She based these counselling sessions on an approach called Testimonial Therapy; a "form of counselling for torture victims, which helps victims come to terms with their experiences by writing about what happened and talking about it to others." Although Harshi's advocacy focus is centred on torture victims, she also works for the realisation of women and children's rights.
Project: With her $5,000 JusticeMakers Grant, Harshi set out to build a comprehensive network of legal resources to improve the experiences of Sri Lankan women in their dealings with the judicial system. There is little rights consciousness within the justice sector in Sri Lanka, and the criminal justice system is permeated by irregularities and instances of malpractice. Law enforcement and judicial officials are only nominally accountable and lack sufficient incentives to uphold justice. Moreover, defense attorneys are poorly trained and generally volunteer to represent pretrial detainees solely for the sake of gaining experience, undermining defendants' rights to competent legal representation and a fair trial.
Over half of the prison population is made up of people awaiting trial, and prison conditions deteriorate daily. A disproportionate number of detainees come from economically depressed and marginalized segments of society, resulting in a prison population with extremely low literacy rates and insufficient knowledge of their legal rights. The state of female pre-trial detainees is particularly alarming.
Results: The direct beneficiaries of Harshi's project were pre-trial detainees in the female ward of the Welikada Prison in Colombo. She provided 5 of these female detainees with direct legal assistance, conducted educational sessions informing prisoners of their legal rights, and published a long-term study examining the adverse conditions the women faced in this facility, which was made available online.
Harnessing technology to increase the impact of her project, Harshi published over 25 stories about pre-trial detainees online in English and Sinhala, significantly expanding the impact of her work. Each of these stories revealed the prison's lack of basic necessities, overcrowding, and poor sanitary conditions. In a mid-project report, Harshi described how she was consistently pressured to use personal contacts to deal with authorities and seek help from lawyers. Harshi acknowledged that this would have been convenient in representing the few women to whom she was directly providing legal aid, but her vision was "to make a difference in this corrupt system by going beyond the usual practice," and to foster systematic respect for women's rights.
Harshi successfully increased her project's capacity by organizing a Public Legal Rights Awareness Session with former pre-trial detainees and their families on November 13, 2010, in the JS sub-office in the city of Galle. Harshi provided essential information on Sri Lankan law relating to prisons and the UN minimum standards rules, which are consistently ignored in the day-to-day operations of Sri Lankan prisons. Most of the participants were remanded on fabricated charges and some were subject to torture at the hands of the Sri Lankan police. Harshi hopes not just to provide legal aid to the female detainees, but also to empower them and others, like those involved in this awareness session, to demand due respect of their legal rights.
For example, Harshi secured the release of Nilmini Pushpakumari, a 24-year-old mother of one who was arrested with her eight-month-old daughter on charges of heroin. Her husband was involved in the drug trade, and once he was arrested for selling heroin, she felt she had no choice but to take up the illicit business to provide for herself and her young daughter. Although she had stopped selling drugs, Nilmini was arrested on the way to the clinic with her daughter. Held in the Welikada women's ward, Nilmini related how adults and juveniles were incarcerated in overcrowded cells, prisoners openly took drugs, and the noise levels were difficult for her young daughter to tolerate.
Harshi also secured the release of Ms. N.D. Anulwathi who was arrested for possession of heroin and incarcerated in the women's ward of Welikada for 26 months. She was arrested soon after the arrest of her husband, a drug addict who supported his habit by selling narcotics. Anulwathi was detained for 26 months before her case was seen in court. Furthermore, the government report that was necessary for Anulwathi's lawyer, provided by Harshi, to proceed with her case was ordered by the court 18 times with no results. With help from Harshi, Anulwathi's lawyer was finally able to obtain the report and prove that the alleged amount of heroin Anulwathi possessed was much less than what the police had claimed. Anulwathi's case was dropped and she was finally released from prison.
Although Harshi's project has succeeded in representing 5 female pre-trial detainees, educating them and their families on their rights, and producing a report on the actual conditions that these incarcerated women face in prison every day, there is still much work to be done before Harshi's vision of a fair and effective Sri Lankan criminal justice system is realized.