Oanh Hoang Ngo
2010 Asia JusticeMakers Fellow, Vietnam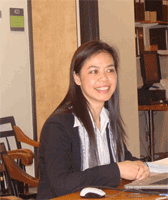 About Oanh Hoang
Oanh Hoang cultivated her interest in criminal law during her years of schooling, as well as her role as a lawyer in the Bac Ninh Bar Association of Vietnam. She has studied criminal justice systems throughout the world and wants to implement reforms within Vietnam to help indigent and juvenile detainees, whom she sees as the most vulnerable when arrested.
After earning her Masters in Law from the State University of Moldova in 1994, she returned to Vietnam to practice as a lawyer. She observed the lack of adequate education and training most defense attorneys received. This prompted her to continue her studies, in the hopes of being able to teach and train her fellow lawyers, as well as the legal scholars educating these young attorneys.
She traveled to Moscow in 2004 to receive her PHD in Philosophy in Jurisprudence at the Peoples' Friendship University of Russia. She then had another homecoming to Vietnam where she began teaching at the Ministry of Justice's Judicial Academy, which is a mandatory training institution for anyone wishing to become a lawyer, judge, prosecutor or other judicial official. She also contributed her time to the National University, the Diplomatic Institute of Vietnam, and Hanoi Law University, teaching aspiring law students and preparing them for the Judicial Academy.
Currently, she is a Visiting Scholar at Harvard Law School, where she has received a Fulbright Scholarship to conduct a research project entitled "Legal Education in the United States and the Applicable Lessons for Vietnam." She is hoping to transfer some of America's best legal practices to Vietnam to improve educational standards for law students and strengthen the capacity of lawyers.
Vietnam has an alarmingly small number of legal professionals, with only one lawyer for every 16,000 people. This results in a lack of sufficient legal representation of the accused. Furthermore, Vietnam's judicial structure hinders effective legal protection, since access to justice for indigent people is not an option. An even more worrisome reality is the denial of juveniles' legal rights. It has not been until very recently, that a juvenile court was established in Vietnam, despite the rapidly increasing number of juvenile defendants in the past few years. One can find numerous violations of the rights of juveniles under the existing Vietnamese criminal justice system. The right to counsel is compromised on many occasions leaving juveniles stranded, and the special treatment and care required when dealing with young offenders is ignored.
Project: Oath used her $5,000 JusticeMakers Fellowship to improve access to counsel for the indigent and strengthen the juvenile justice system in Vietnam. She has enhanced the professional capacity of lawyers through skills-training courses, designing workshops to be conducted by legal academics and child psychologists. Specifically, these trainings  targeted lawyers in the Hanoi Bar Association and apprentice lawyers in the Judicial Academy who specialize in criminal justice. She complemented the educational sessions with seminars and panel discussions led by relevant legal sector stakeholders, deliberating about the challenges facing accused juveniles, and the innovative solutions available to reform the juvenile justice system. Lastly, using domestic and external resources, she  established a charitable fund to finance legal representation for the indigent accused.  This will helped  her  to renovate the existing legal aid mechanism under the Judicial Academy, requiring lawyers to spend more time attending to pro bono casework.
Results: Oanh organized two workshops with professionals, authorities, and law students to raise awareness about professional responsibilities and ethics within law society. She also conducted research on the juvenile justice including adolescent psychology, juvenile crime and court and  the difference in needs of male and female youth.
She also provided training for lawyers working with young adolescents and legal assistance for juvenile defendants.
Oanh is motivated to continuing her work with  vulnerable communities. She hopes that she will be able to use both domestic and international connections to find support for her future projects.