Chimwemwe Ndalahoma
2008 JusticeMakers Fellow, Malawi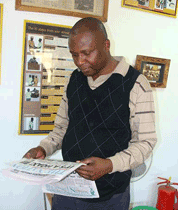 Chimwemwe Ndalahoma was exposed to Malawi's justice system at an early age, as his father was a senior police officer heading the Criminal Investigation Department. Growing up in a police camp, Chimwemwe quickly developed respect for law enforcement officials and other stakeholders in the justice system. This childhood experience has contributed to his passion for penal reform and his strong commitment to protecting the rights of all prisoners.
Since then, Chimwemwe has gone on to work in the human rights and criminal justice field, and has attended human rights trainings in Denmark and Switzerland. He has also presented papers on the role of non-lawyers in the justice system at various conferences and workshops. In 2000, Chimwemwe began working to develop the Paralegal Advisory Service Institute (PASI) in Malawi. PASI was created in response to life-threatening conditions in Malawi's prisons. At the time, the prisons were overcrowded, with high death rates due to starvation, the spread of disease, and police brutality and torture. Prisoners lacked meaningful rehabilitative programs, often languished in jail for years awaiting trial, and had no access to legal advice. Malawi has only 300 lawyers to serve a population of 13 million people.
To address these problems, PASI focuses on training paralegals and ensuring the establishment of a permanent paralegal presence in Malawi's prisons, especially due to the dearth of lawyers and the high cost of their services. Paralegals monitor the human rights situations in prisons and provide legal advice and assistance to prisoners. Through PASI, Chimwemwe hoped to contribute to making the criminal justice system more efficient and effective so that it is more responsive to the needs of prisoners, especially the poor and vulnerable.
Although Chimwemwe began working as a Paralegal Officer, he soon moved up the ranks to become a Team Leader, and today he is responsible for coordinating the work of 38 paralegals. With PASI's help, conditions in Malawi's prisons have greatly improved over the years. Due to its success, PASI's model has been adapted and replicated in numerous countries, including Benin, Kenya, Uganda, Niger, and Bangladesh. As an acknowledgement of his hard work and commitment, Chimwemwe received a Best Paralegal Award in 2001.
The Problem
In Malawi, there is widespread police mistreatment of suspects upon arrest and in interrogation, as well as the prevalence of inhuman prison conditions. Despite attempted police reform, evidence confirms serious cases of police brutality and torture of suspects in police cells and interrogation rooms, often resulting in death in custody and dehumanizing conditions for the accused. The rule of law in Malawi has remained unenforced because democracy has not been fully consolidated, as the country is still recovering from years of brutal authoritarian rule. Key institutions such as the police and judiciary, which would ordinarily be the pillars of the rule of law, suffer from lack of capacity and poor policies, thereby making access to justice difficult for the majority of citizens.
Results
Mr Cibangu published his Journal which contained the names of the police officers who were responsible for  committing abuses. However, this naming and shaming approach triggered the hostility of the Police HQ in Kinshasa whose collaboration was essential for the implementation of the Project.
It is for this reason that Mr Cibangu changed his attitude towards the Police HQ by sending the Journal directly to them rather than rendering it available to the public. In this way, he gained the trust and collaboration of the Police HQ in the investigation of the human rights violations committed by police officers.
In addition, Mr Cibangu provided legal aid at 24 police stations for more than 507 women who suffered abuses. The case of a young girl accused of being a witch can perfectly explain the importance of the work carried out by Mr Cibangu and his team. In this  case, one of the lawyers involved managed to obtain the release of the girl. However, the girl's ordeal was far from over. In fact, she was refused by her family who accused her of killing her father by virtue of being a witch. The lawyer succeeded in convincing the family to accept their young daughter again and thus, reuniting the family. This is only one of hundreds of challenging stories which Mr Cibancu and his team went through.
Mr Cibangu seeks  to expand his Project in a larger geographical area.